Liquify are official Shopify Experts & Partners since 2014. If you follow a link to Shopify from our website and make a subsequent purchase this may result in a commission at no extra cost to you. Our opinions remain our own.
Interested in running a wholesale branch of your online business? Wondering which is the best ecommerce platform for this? Magento? Shopify? Woocommerce? SAAS? Self hosted? Open source? Custom built?
Not sure which is the best value platform for you and your customers? Choosing the correct platform for wholesale eCommerce isn't easy. And our clients always have loads of questions about choosing the correct wholesale eCommerce platform.
So we've decided to spend some time writing things down to give our existing clients, and potential new clients, an overview of the options. It will hopefully save us all time.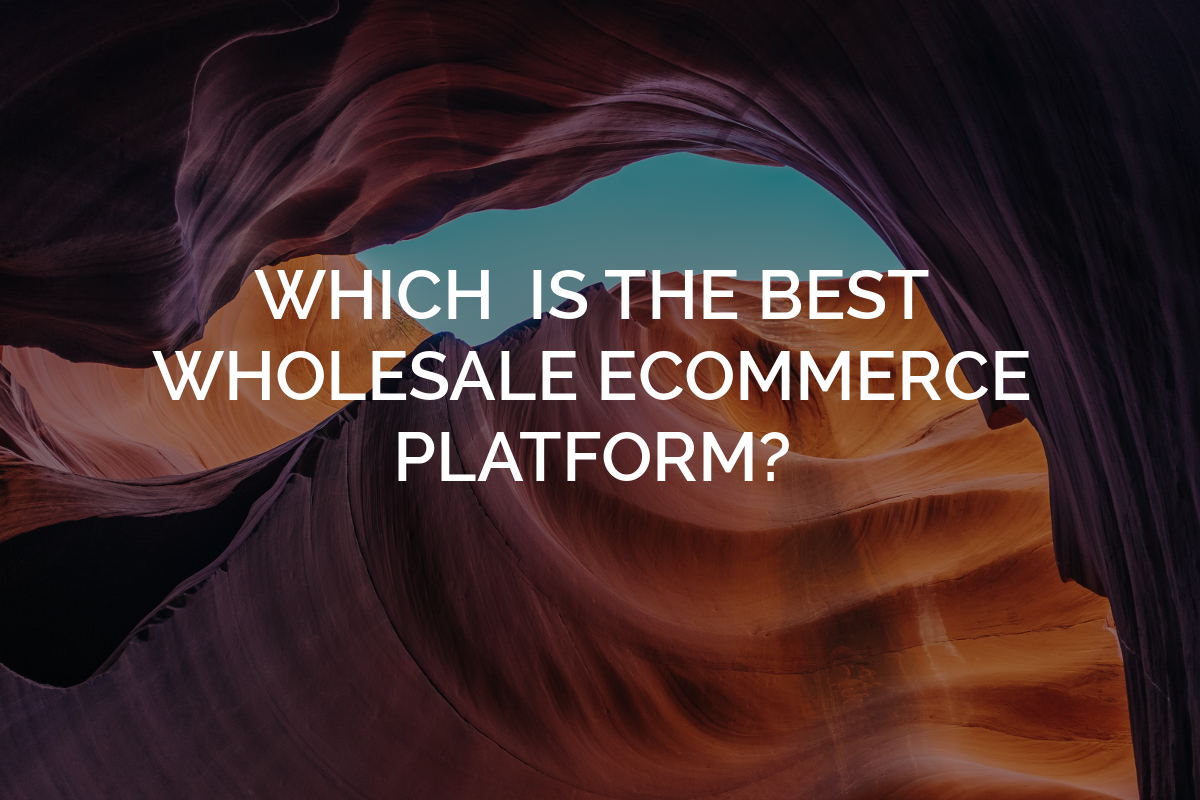 When choosing an ecommerce platform you absolutely need to make sure you are spending money on a platform that will:
Support your wholesale business needs
Scale and change with you (because your business needs will change)
Integrate with everything you need to integrate with
Be easy for you (to update)
Be easy for your customers (to find and purchase products)
Be secure (a lot of people don't think much about this one)
Whether you're in the planning stage of a wholesale startup or have an established business already and wish to make your wholesale sales online – you need to spend some quality time looking at which ecommerce platform is right for your business.
Reading around online and speaking with ecommerce experts will play a large part of this. This article is written for those people who are specifically looking to launch or re-launch a b2b, wholesale ecommerce store in 2018/2019 and are unsure of the options.
The 3 Categories of eCommerce Platform
eCommerce platforms fall into these main categories:
SAAS – software as a service. By far the most common option in 2017 is SAAS solutions – not just for eCommerce but for everything. Here the software and hosting are provided and maintained by the SAAS company. For a monthly fee you get everything you need to run your online wholesale ecommerce store. Larger SAAS ecommerce platforms include Shopify & BigCommerce.
Open Source – most people are familiar with the concept of open source software. Some eCommerce platforms are open source. This means that anyone and everyone develops for it and people re-use the code of strangers. Whilst this can be cost saver for non-ecommerce it absolutely isn't when you're running an ecommerce store and thinking about important (business critical) things like data security and compliance. You'll usually pay a hell of a lot more in security maintenance and hosting than you would on SAAS every month going down this route. In our opinion only a naive fool with no respect for data security would use open source code for a sizeable ecommerce project unless they have a developer who specialises in security working in-house. Main open source ecommerce platforms include: Magento, WordPress (+ Woocommerce or another plugin) or OpenCart.
Bespoke – the only option for some businesses is to get a bespoke platform built. This is usually the option people go for when they outgrow all the SAAS platforms available. You absolutely need an in-house team here if going down this route. Building a custom eCommerce platform is a monster task with everything to consider from security to hosting, integrations and features. If you need a custom solution built you will not be reading this. You will have a team of developers in house already who will be able to tell you these things. You don't hire an agency for this.
The Options for Wholesale eCommerce
Many people complain that they are spoilt for choice these days – in many markets there are simply too many products and options to choose from. The good news is that in wholesale eCommerce there are only 2 options (out of the box) which you should need to consider.
These options are Shopify and Magento. Shopify is an SAAS product – so it's software as a service. Magento is open source. So if you've been reading this article closely you'll know already that for using Magento you'll need an in-house developer who specialises in security.
We have Shopify developers in house. And we also have Magento developers.
This article will focus on these 2 options only. There are plenty of other options for eCommerce but most of them are chasers, diggers and dreamers. These are the main players in eCommerce: Shopify and Magento.
Both Shopify and Magento are dedicated ecommerce platforms. There are other ecommerce platforms out there but we won't be talking about them. All I will say briefly is this: Woocommerce is popular amongst small traders/bloggers but highly insecure and you absolutely do not want to be using it moving forwards – it's not a professional solution. Bigcommerce is about as big as a flea compared to Shopify and Magento and far less flexible. Volusion is a bit 1998 and dead in the water. The other ecommerce platforms are too small and insignificant to consider.
So it's a 2 horse race when it comes to wholesale ecommerce platforms. Shopify vs Magento.
Hopefully after reading this then you'll understand which is the best for your business.
An introduction to Shopify Wholesale
Shopify is a hosted SAAS service. This means that Shopify maintain the software and servers which power your wholesale ecommerce website. In a few clicks you can roll out an (unbranded) store using Shopify and have everything you need to sell internationally.
Obviously it takes a bit more than a few clicks to get trading – but you get the point. Shopify makes selling online easy. You'll need a designer/developer to brand your store, complete any integrations, integrate any apps, set everything up and connect and test your payment gateways. (Some smaller retailers chose to do this stuff themselves but generally the results have much to be desired.)
Shopify is the biggest SAAS service for eCommerce in the world. It's listed on the NY stock exchange and the Toronto Stock exchange. It was one of the highest performing stocks on both those exchanges in 2017 because it's ecommerce software is booming. The growth seen from this platform in the past few years has trounced every other platform. Year on year growth is outstanding. And this is because Shopify have just got the product right and they've kept making it better all the time. If any of you are reading this article on an Apple device – Shopify is the Mac of the eCommerce world.
We've been with Shopify since the early days and an approved Expert of the platform since 2014. Running an online ecommerce business is pretty damned easy using Shopify. But we have a special case today and that is wholesale. How specifically does Shopify work with wholesale?
Shopify basically offers 2 options here. Regular Shopify stores with they use of a wholesale app or Shopify Plus with the wholesale channel. For those who are new to Shopify the vast majority of people use regular Shopify. Shopify Plus was introduced as an enterprise class solution to cater for larger ecommerce sites and big brands. Smaller to mid sized retailers will use Shopify and larger retailers will use Shopify Plus. Read: What is Shopify Plus for more information.
With both options you'll need a Shopify developer to set things up properly for you.
Using a Wholesale app with regular Shopify
The regular Shopify platform doesn't really cater for wholesale out of the box simply because most smaller retailers don't need it. However you can easily use an app to extend the platform for wholesale functionality. (Shopify apps extend the core functionality of the platform.)
There are a number of apps which will allow you to convert an ordinary Shopify store into a wholesale store including but not limited to:
Wholesaler app (0-$48/month)
Wholesale Hero ($29.99 – $49.99 /month)
Wholesale Pricing (Free – $54.99 /month)
Customer Pricing -($29.99 / month)
Wholesale Pro ($23.99 – $149.99 / month)
Wholesale Pricing ($24.00 – $49.00 / month)
Wholesale Simplified (FREE)
These Shopify wholesale apps all have their own features and quirks and you will only need to chose one based on your business needs. In a moment we'll discuss the advantages/disadvantages. But first let's cover the second option for wholesale and that is the wholesale channel on Shopify Plus and how it's different to using an app.
Using the Wholesale Channel with Shopify Plus
Shopify Plus is the top most Shopify plan. It caters for bigger businesses and accelerating startups an and is packed full of more features than the regular Shopify plans. Shopify Plus is for the enterprise class merchants and to use it you will be spending $2k minimum per month (calculate Shopify fees/prices here).
One of the features exclusive to Shopify Plus is the Wholesale Channel. Let's just take a moment to discuss channels as they are pretty important with Shopify stores. Shopify have taken huge steps in recent years to allow store owners to sell via multiple marketplaces including Amazon, and Facebook.
Each place where you sell products is a sales channel. Let's say you have a basic online store with Shopify. In the Shopify world we call this your Online Store sales channel. With Shopify you can easily then connect your online store with other sales channels like: Amazon, Facebook, Etsy, Retail Store etc. We've seen retailers double their sales simply by connecting their store to the Amazon sales channel btw. One reason why Shopify is the best ecommerce platform for 2018.
Now, Shopify Plus merchants have access to an additional sales channel called the Wholesale sales channel. Here you can run a regular store for B2C and then through the wholesale channel have a separate domain for wholesale customers. The stock and inventory is synced between them and pricing/customer accounts are all separate. You can have things like tiered discounts and customer groups as well as a simple interface for ordering multiple products.
Shopify Wholesale Apps vs Shopify Wholesale Channel
In short: the Shopify Wholesale channel on the Shopify Plus plan is by far the superior solution over all the apps available. If you are using – or can afford to use Shopify Plus – then you should use the wholesale channel. It's a cleaner, more professional solution built around the needs of a traditional wholesale customer and retailer.
There are a number of apps and all have different features and functionality. Yes you can achieve tiered discounts with these apps. Yes you can have certain products accessible only to certain customers. But the problem most people face with the wholesale apps is that they all rely on some kind of hack to make them work. Some use hidden variants, some use hidden products. None of the apps offer a single ordering screen for many products which you'd find in a typical wholesale store. The Shopify wholesale channel offers all these things on a separate domain.
The end result when using an app is that you basically have your B2C site and B2B site combined and with some hidden products/variants based on user login. This is fine for some smaller businesses who don't want to spend a lot of money on their online store. But for bigger retailers this is far from ideal. It's slow and ugly and there's a lot of potential for things to go horribly wrong.
The Wholesale Channel with Shopify Plus creates a separate store. There are no hacks or tricks or hidden products/variants. You have a separate B2B store and a separate BTC store. Very quickly you can create a wholesale store and all products are synced so your inventory is up to date. It's much quicker and easier for the wholesale customer to shop and get invoiced. Much more professional.
You can set tiered prices and discounts for groups of customers. The stock is synced between the two stores. The B2B customers can order everything from one simple, clean interface.
If you would like to see this in action with a Shopify Plus developer then contact us.
Also you can start a free trial with Shopify using the link below and add the wholesale channel or one of the apps mentioned. Note: to continue to use the wholesale channel you'll need Shopify Plus – you may try it in the 2 week free trial below.
Benefits of using a wholesale app with Shopify
The benefit of using an app rather than the wholesale channel is pretty much all about costs. A Shopify Plus plan is required for using the wholesale channel and many smaller retailers find the price tag of Shopify Plus too much. A merchant can save on monthly fees when using an app since the combined cost of the app and regular Shopify plan is lower than the cost of Shopify Plus plan.
Interestingly some merchants save money on monthly fees when moving to Shopify Plus simply because of the lower transaction fees. Compare Shopify plan prices here. If you're not quite ready for the step up to Shopify Plus the wholesale apps can be a low cost solution in the short to medium term.
At some point it makes sense for a business to be using Shopify Plus since the platform offers many benefits which we've discussed at length here in our article on: The Benefits of Shopify Plus as well as lower transaction fees.
Benefits of using the Wholesale Channel
The wholesale channel offers a separate domain for wholesale customers with stock syncing which means you keep wholesale and retail customers separate. It offers tiered discounts and customer groups as well as a simple interface for customers to order through. You can set discounts by collection, customer group or volume. You can also password protect it to allow access only to authorised wholesalers. Customers can create a draft order which you can easily then send as an invoice.
Take a look at this video explaining the benefits of the Shopify Plus Wholesale channel.
An introduction to Magento Wholesale
UPDATE Jan 2018
Note: As of DEC 2017 we are no longer suggesting anyone uses Magento for eCommerce due to recurring security concerns with the platform unless they have an in-house developer who specialises in security. Please be advised that we are no longer taking on any Magento clients and are removing the platform from our range of platforms. We are actively migrating clients to more secure platforms.
Why? Well, in 2015 it was reported that outdated or unpatched Magento web stores are susceptible to a Cross-site scripting attack (an attack which allows people to steal credit card and customer data). By 2016 this had become less of a threat. But in 2017 security company DefenseCode reported that Magento CE web stores are susceptible to Remote Code Execution attack. Essentially rendering the vast majority of Magento stores insecure.
It's estimated that up to 260,000 Magento stores could be vulnerable to such an attack in April 2017. If spending time/money on security is not a problem for you then read on. Else use Shopify for your Wholesale eCommerce needs.
Magento
Magento is an open source eCommerce platform. An open source product is one that many developers contribute to from all over the world. This is a great idea in itself and many successful open source projects run around the world – especially with software. Indeed, some of the best software in the world is open source.
There was a time when the platform showed serious promise but as the note above shows – it's become a trouble platform because of the security issues around it.
Who Owns Magento?
Magento is something of a special case though when it comes to ownership and if you're making a long term investment in an ecommerce platform (because it is expensive to migrate after setting up shop and integrating) you need to be aware of who owns the platform you're working on.
So even though Magento has an open source version – the platform and core code and hosting services – are owned by investors. Magento (in 2018) is owned by a private equity firm Permira. They took the platform on from Ebay who took it over bit by bit. Before Ebay purchased it there was another couple of owners and part owners. You get the picture. It's been a pass the parcel project with a number of investors buying it in the hope of selling it again for more.
Rumour has it that Magento isn't delivering returns on the initial investment made by Permira and this may in the coming years for yet another sale. Many developers have blamed the lack of platform development on ownership changes. Shopify on the other hand still has the same CEO as when it was founded. It's just become a public company and re-invests everything back into growing the platform.
These things aside – Magento currently offers an Open Source alternative to Shopify for wholesale ecommerce. In order to setup shop on Magento you'll need a dedicated server which is PCI compliant. You'll definitely need at least one developer and you'll want to make sure that they are up to date with all the security updates and issues which come naturally with Magento because if you are making sales people will try to hack you every week. How much does it cost to hire a full-time Magento developer to do this? It will really depend on your location. In England a decent Magento developer will expect to be paid around £50k per year. In the states perhaps $70-100k.
So you're looking at quite an expensive site from the start. Magento is more expensive that Shopify Plus. Typically a secure Magento site will cost 3×4 a Shopify plus site to run and keep secure.
Advantages of Magento over Shopify for wholesale eCommerce
So why use Magento? The main reasons why people would want to use Magento instead of Shopify or Shopify Plus are to do with 2 things only. There are only 2 things with Shopify that are very difficult to achieve correctly. That is multi-lingual functionality (with decent SEO) on the single domain and multi-currency checkouts on the same domain.
So if you need a single wholesale store with multiple currencies and/or multiple languages then you should consider Magento. It doesn't mean you should definitely use it (who actually needs everything on the one domain?) but you should consider it.
If your wholesale store is in one currency and all content is in one language then Shopify will be a better choice for you. Forget Magento in this case. Magento is only a benefit where you need those 2 specific things. Else it becomes an expensive burden.
Remember- that security patches need to be done weekly with Magento (and almost all OS sites). If you take shortcuts with security your customer data will not be secure and people will hack you.
Magento Wholesale Plugins
Magento as a core platform – like Shopify – doesn't really cater for wholesale. You'll need to use a plugin/app to create the wholesale ecommerce functionality you require and your developer will be able to advise on which is the best solution.
The following plugins allow wholesale functionality on a Magento site:
https://bsscommerce.com/magento-wholesale-fast-order.html
https://amasty.com/sales-reps-and-dealers.html
There are more and your Magento developer will be able to advise and test on the most suitable solution.
Conclusion – Which is the best Wholesale eCommerce platform?
In 2017 Magento saw some serious security vulnerabilities exposed. Most people have lost faith in the platform and are looking at options for migration. It's still an option for some people but they are few and far between. Shopify on the other hand has ballooned with rapid growth and absolutely no major security breaches. So you're essentially looking at Shopify or Shopify Plus as the best eCommerce platform for 2018/2019 and beyond. If you're on a budget the regular Shopify plans with an app should be fine. If you're a more established retailer then Shopify Plus will be a viable option moving forwards for wholesale.
Questions about wholesale eCommerce
If you have any questions about wholesale eCommerce or wish to get a quote for setup and migration then feel free to contact us. One of our developers will get back to you within 24 hours.