Shopify Plans Compared – Shopify Pricing Plans
Liquify are official Shopify Experts & Partners since 2014. If you follow a link to Shopify from our website and make a subsequent purchase this may result in a commission at no extra cost to you. Our opinions remain our own.
Shopify Plans & costs are confusing to those new to ecommerce and Shopify. Many people just starting wonder which Shopify plan is right for them. So today we're going to talk about Shopify & the different Shopify pricing plans available. You'll be able to do a Shopify plan comparison and decide which plan is most suitable for your business based on features and functionality.
Shopify is a paid e-Commerce SAAS platform which allows people to launch and manage online stores with ease. Shopify has been awarded the best eCommerce platform for 2018 (and beyond) by our ecommerce developers and is growing faster than any other ecommerce platform in the world. Magento and Woocommerce are in decline whereas Shopify is growing. There are good reasons for this shift – even Amazon's eCommerce service conceded to Shopify a few years ago and closed – suggesting all stores migrate there (Shopify have an excellent integration with the Amazon sales channel).
Shopify Plans – Features & Prices Compared
Shopify has a number of monthly plans and each Shopify plan comes with with different features and costs. Some Shopify plans are suitable for small businesses and others for growing or high volume international merchants. Currently there are 5 Shopify plans and all of them have a simple monthly pricing structure. In this article we're going to compare features and costs of all of the 5 Shopify plans to help you chose which is the most suitable for your online business.
Whether you're a one man band or an established multinational – there is a Shopify plan for you. The question about which Shopify plan is right for you will depend on the features you require and the budget you have for running your online store.
You can compare all features of the different Shopify plans using the comparison tables below (we think is the easiest) or jump down to Shopify Plans Compared. If you're interested in a cost calculation for a new ecommerce store then you can use our Shopify Price/Cost Calculator to calculate your potential monthly fees.
Shopify Plans explained
Shopify offers a number of different paid plans. Each paid plan is geared towards a different kind of business – from small startups to multi-million dollar stores. Each Shopify plan comes with a different set of features and a different cost. You should spend time comparing Shopify plans before deciding on one. The above Shopify Plan comparison table should help you decide as should the descriptions/FAQ's below. And if you still aren't sure then the best thing to do is start a free trial with Shopify – you can always upgrade or downgrade your Shopify plan at any time.
A Brief Shopify Plan Comparison – shopify plans explained – shopify hosting plans compared
There are currently 5 Shopify Plans. Here we will give a short overview of each of the Shopify plans and say which kind of business it is most suitable for. No matter what kind of online business you run – Shopify has a suitable plan for you. Here is an overview of each Shopify Plan (in cost order). For a more comprehensive Shopify plans comparison – use the tables above.
The Lite Shopify Plan – $9/month with 2% transaction Fees
Lite Shopify Plan: Suitable for stores with sales under $2000 per month and no requirement to sell on your own website.
The Lite Shopify Plan was introduced in 2017 and is there to cater for merchants who do not wish to run their own online store. Usually these merchants are selling via Facebook, a WordPress blog, Amazon and other available sales channels. The lite Shopify plan is the lowest cost in terms of monthly fixed price but it comes with very limited features and a 2% transaction fee. With this plan you can sell products via other websites but you do not have your own online store. It's the perfect plan for people who have a WordPress blog or who wish to sell on Amazon/Facebook without managing an online store.
The Basic Shopify Plan – $29/month with 2% transaction fees
Basic Shopify Plan: Suitable for stores with sales under $2,000 per month
The Basic Shopify Plan is the introductory Shopify payment plan for merchants who want their own online store but perhaps don't need all the features other stores need. This entry level Shopify plan allows you to run an online store but with limited features and a higher (2%) transaction fee on sales. Like with all the other plans it also allows you to sell on Facebook and Amazon as well as many other channels including your own online store. The Shopify Basic Plan is the second most popular Shopify plan and is perfect for merchants who are just starting out on a low budget. Many people who start out on this entry level plan upgrade later on, as they actually save money on the next plan up (because of lower transaction fees).
The Shopify Plan – $79/month with 1% transaction fees
Shopify Plan: Most suitable Shopify plan for stores with sales between $2,000 and $5,000 per month.
The Shopify Plan is the most popular payment plan amongst merchants using Shopify. It has many features required for running a successful online store, a relatively low monthly fee of $79 and only a 1% transaction fee. Many merchants find that this is the best starting plan with Shopify since it combines a lower transaction fee with a higher upfront monthly fee – with plenty of features. Most merchants who have been trading for a while find that this plan is cheaper than the Basic Plan because of the lower transaction fees. And it also comes with more features into the bargain. This Shopify Plan is perfect for new stores who plan on growing as well as established stores with low-medium volume sales.
The Advanced Shopify Plan – $299/Month with 0.5% transaction fees
Advanced Shopify Plan: Most suitable Shopify plan for existing stores with sales between $5,000 and $50,000 per month or startups expecting to reach that sales point soon.
The Advanced Shopify Plan is very popular Shopify payment plan amongst startups and established businesses with solid monthly sales. This plan comes with very low transaction fees of 0.5% when using an external payment gateway and has a fixed monthly fee of $299. This plan has all the features required for running a successful online business. Once sales hit a certain point then some merchants will find that upgrading to the Shopify Plus Plan becomes cheaper – since it has 0% transaction fees and allows up to 10 clones of the initial store for free.
Many merchants with established online stores find the features that come with this plan outweigh the costs. The simple and clear pricing structure of this plan along with the low transaction fees make it the best solution for many merchants. If you're an existing business or a startup looking to scale quickly then the Shopify Advanced Plan is probably for you.
The Shopify Plus Plan – $2,000/month +
Shopify Plus Plan – Most suitable Shopify plan for large stores with sales (or expected sales) over $50,000.
The Shopify Plus Plan is the top most Shopify plan for enterprise class merchants and rocket startups. If you're looking for the absolute best eCommerce solution online you've found it here with the Shopify Plus Plan. Packed full of all the features, accelerated support and additional API's this is ecommerce at the highest end – all for a fixed monthly fee with 0% transaction fees.
We've written heavily on the benefits of Shopify Plus and provided a detailed breakdown of the monthly costs of Shopify Plus. In short: Shopify Plus is the platform for enterprise class ecommerce merchants and startups who plan on scaling quickly. If you're interested in talking with one of our team about migration to the Shopify Plus Plan then contact us.
Which is the right Shopify Pricing Plan for Me?

Deciding which Shopify plan is right for your business is an important step to take and will depend very much on your business. We suggest you start by looking at the feature tables above which compare the different plans. Look at the features of each plan before looking at the price. Once you've found the Shopify Plan which offers the best features for you then start a free trial with Shopify.
And remember – Shopify payment plans can be upgraded and downgraded at any time.
How Can I Compare Shopify Plans?
Selecting the right Shopify plan for your online store is essential. If you select the wrong plan you could end up paying more than you should – or miss out on essential features that could help your business grow. The great news is that upgrading and downgrading a Shopify plan is very easy and if you use our tables below then comparing the different paid Shopify Plans should be. You can easily compare prices and features using the comparison tables above or use our Shopify Plan Calculator.
Do Shopify payment plans Cover Hosting Costs?
Yes – all Shopify plans cover hosting, support and the software required to run your online store (all plans except for Lite). You will have unlimited hosting via a global CDN.
Shopify Monthly plans vs Shopify Annual Plans
All Shopify plans are billed monthly but you have the option to pay once per year or even once per 2 years – with a 10% and 20% discount respectively. We think it's a good idea to pay yearly for your Shopify plan and save 10%.
Do Shopify Plans change by Country?
Shopify subscription plan prices and features are the same globally and everything is priced in USD. This means that Shopify plans in the UK, Canada, US Australia etc are all the same. You will always be billed in USD and have access to the same features everyone else does in the world who uses the same Shopify subscription plan.
Can Plans be Upgraded/Downgraded with Shopify?
Yes – it's very easy to upgrade/downgrade a Shopify plan. You can do this from your store admin. If you are considering upgrading to Shopify Plus then please contact us and we will initiate the process from our partner dashboard.
How are Shopify Subscription Plans Billed?
All Shopify subscription plans are billed monthly but you have the option to pay annually and save 10%. Many merchants opt to pay annually. The benefit of being billed monthly is that you can cancel your contract at any time.
How to select or change Shopify Plan
It's easy to select or change your Shopify plan. If you don't have a store yet then start a free trial first then come back here. You should then go to online store > settings > account > plan – from within your store admin
So the domain will be www.yourstore.com/admin/settings/account/plan. You will not see the options to select Shopify Plus here – please contact us if you wish to upgrade to Shopify Plus. You will see a screen like this which will allow you to select a Shopify plan: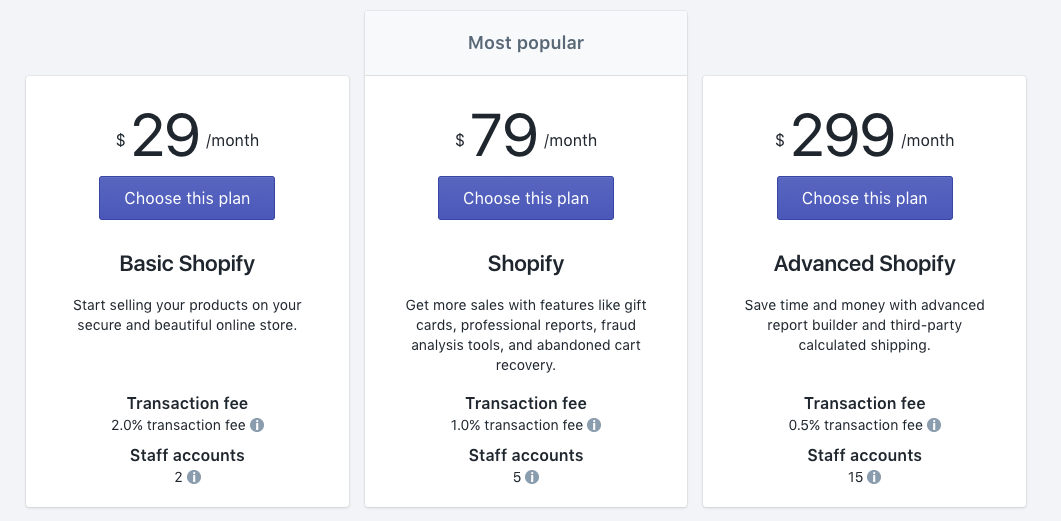 If you already have a Shopify plan selected then you will have the options to upgrade/downgrade your Shopify plan from here. Just select the plan you want or contact us to upgrade to Shopify Plus.
Updated: May 2020