Liquify are official Shopify Experts & Partners since 2014. If you follow a link to Shopify from our website and make a subsequent purchase this may result in a commission at no extra cost to you. Our opinions remain our own.

Heard about Shopify Plus but can't find detailed pricing information for the plan? Asking how much Shopify Plus costs? You're not the only one. Dozens of people search for Shopify Plus price/cost information every day and most people simply don't find it. Instead they all end up on the same page on Shopify telling them to get in touch.

Some people are fine with giving their contact details out and others aren't. This article is for those who are curious about the pricing structure of Shopify Plus but aren't yet ready to hand over their email address in exchange for it.
Please note – this article gives a detailed overview of Shopify Plus and is quite long. You can also use our Shopify Price Calculator which also includes Shopify Plus pricing/costs. This tool allows you to calculate Shopify Pricing/Costs in an interactive way based on your sales/gateway.
Why Don't Shopify Publish their Plus Plan Prices
This is what the normal Shopify plans are priced like and as you can see the Plus plan pricing is missing: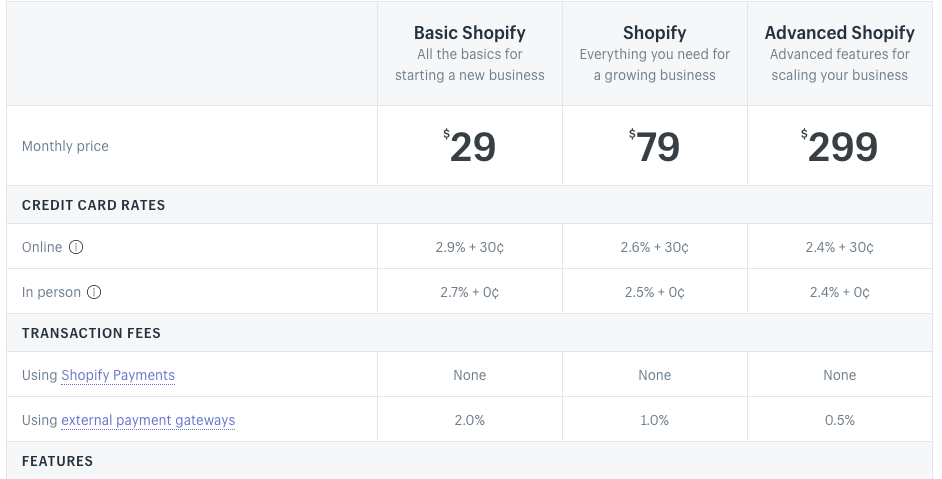 The reason Shopify themselves don't actually publish Plus fee information like they do for other plans is fourfold:
Shopify Plus is still quite new and we guess they hadn't (until recently) quite decided on the longer term pricing structure of the plan.
Shopify would like to capture your information as a lead – in exchange for the pricing information – so their sales people can get in touch and try to sell it to you as a solution.
It's not a simple pricing structure like the pricing for the other Shopify plans.
Probably the fees for Shopify Plus would scare some smaller retailers away from the platform's other plans (which are much cheaper).
The good news is that it's not that complex to calculate potential Shopify Plus fees and so long as you've got 5 minutes to spare and can do some basic maths – you'll be able to calculate your potential Shopify Plus platform fees without having to talk to a sales person. Ready?
Update: since writing this article we've developed an Interactive Shopify Pricing Calculator which includes pricing for Shopify Plus.
Before we get down to numbers though – please note that this is all about real costs (hard cash) for Shopify Plus rather than value or benefits of Shopify Plus. If you're looking to understand more about the value of Shopify plus in comparison to other plans or platforms you can read our review of Shopify Plus or the top 24 benefits of Shopify Plus. Or if you really want to get into serious details you can contact us to schedule a consultation with one of our Shopify/Magento developers (but we do charge hourly rates for consultation time).
Shopify Plus Pricing was updated in 2017
Note: that this is the pricing structure of Shopify Plus as it is in June 2017 when this article was published. Things may well change in the future – but this is how things are now as of this moment. And since these pricing changes have been phased in during the first half of 2017 we don't think they will be changing for a good while yet. They should certainly stick into 2018 and 2019 and we'll try to keep this post updated as any changes come in.
All fees are in US dollars and Shopify will always bill you in that currency – regardless of the currency of your store or plan you have. Whilst this may seem trivial to some – it is an important consideration for businesses outside of the US. (for example after the Brexit vote our UK clients saw their real term costs of using the platform climb by around 20% because of the weak £ vs $. Worth noting for non US based clients.) Those points aside:
Shopify Plus new Price Structure for 2017 (and beyond)
How much will it cost to run a store on Shopify Plus?
Your cost calculation for running a Shopify Plus store will consist of:
Shopify Plus Platform Fees – this is the specific platform fee which is paid directly to Shopify for using the platform as a Plus client. This gives you access to the software, hosting and support and is the figure most people are looking for but it doesn't really give the full picture because you'll also have to think about the following:
Payment Gateway fees – for processing payments using Shopify Plus. All payment gateways have fees for using them and Shopify charges different fees depending on the plan you have.
App fees – apps extend the core functionality of Shopify. All Shopify stores – regardless of the plan they have – use apps.
Maintenance fees – ongoing costs for maintenance of a Shopify Plus store. Like with any store you'll face ongoing maintenance fees. We'll talk about these.
1+2+3+4 = your approximate total fee for using Shopify Plus as a platform.
Let's work through each one to try to get an approximation for your business when using Shopify Plus.
1) Shopify Plus Plan – The Platform Fees
The platform fees of Shopify Plus go to Shopify for the hosting and the software and the support.
The Shopify Plus pricing model is all based on store usage. Usage is a vague term. Shopify Plus uses percentage of monthly sales to calculate your usage of the platform. So usage means sales in this context. The idea is that if you sell more – you use more server and support resources.
(I have a lot of experience with ecommerce clients and can safely say that sales does not equate to platform use or support needs. But this is just the way things are done on Shopify. Deal with it.)
Shopify Plus has a floor price (or minimum fee) which is $2,000 and also a ceiling price (maximum fee) which is $40,000.
The platform fee is charged at 0.25% of monthly store sales if you are not using Shopify Payments as the payment processor/gateway. This means that you are using one of the many other supported major gateways such as Sage or Braintree.
If you are using Shopify Payments as the gateway then the % of monthly sales is dropped to 0.15%.
Where you are using multiple gateways (e.g. Paypal and Shopify Payments or Sagepay) – then the reduced rate only applies to transactions processed through Shopify Payments.
You will need to sit down with your accountant to talk about the best solution for payment gateway. It will very much depend on your business location and sales volume. You may well have a gateway already. In short – Shopify Payments is a good value option for certain businesses in certain countries if they want a POS. Shopify Payments is not available in all countries and it doesn't support things like 3d secure which is pretty much essential in some sectors. I would suggest that you get quotes from the main payment gateways which support your specific needs and do a quick cost calculation. Likelihood is that Shopify Payments will not make financial sense unless your volumes are low.
So the absolute minimum platform fee you will pay on Shopify Plus is $2,000 per month. That's the basic platform fee and the lowest price that any store using Shopify Plus can expect to pay. So expect to pay that even if you're just starting out with Plus.
The absolute highest fee you will pay is $40,000 /month – and no Shopify store will ever need to pay more each month for using the platform. That is the highest possible fee regardless of sales.
A few examples of Shopify Plus Platform Fee Pricing:
Jimmy's Big Drills
Jimmy runs a Shopify Plus store and sells $10,000 worth of big drills every month.
Jimmy's usage calculation would be $25 per month (0.25% of $10,000) assuming he was using any gateway other than Shopify Payments.
But since there is a minimum fee of $2,000 for Shopify Plus – Jimmy would pay that. And to be honest – if Jimmy was selling $10,000 worth of drills every month he would be better off on a lower Shopify Plan unless he was planning on scaling his drill selling business very quickly.
Diamond Skinny Tea
Diamond skinny tea sells $100,000 worth of tea laced with laxatives every month (that isn't a joke – a real company do this and do very well out of it).
Anyway, bitching aside, their usage calculation for Shopify Plus would be $250/month.
But since there is a minimum fee of $2,000 for Shopify Plus – they would pay that.
With sales in that region this business may well be able to swallow the $2k/month platform fee for using Shopify Plus. Because it is a fantastic ecommerce solution and has some pretty cool features above the other plans.
Luxe Fast Cars
Luxe fast cars sells $1,000,000 worth of fast car parts every month.
Their usage calculation for Shopify Plus would be $2,500.
This is above the $2,000 floor price so they would pay $2,500 per month for using Shopify Plus.
Conclusion
You can immediately see that Shopify Plus is not for small merchants. Even with the benefits Shopify Plus brings – small sales wouldn't justify the platform fee.
In short: Shopify Plus stores with monthly sales between $0 and $800,000.00 USD will all pay $2,000 per month just for using the platform. Everyone else will pay more – up to the ceiling price of $40,000 – based on a 0.25% transaction fee (or 0.15% if using Shopify Payments).
2) Payment Gateway Fees for Shopify Plus
Above was the transaction fees for Shopify Plus (0.25% if not using Shopify Payments. 0.15% if using Shopify Payments). Regardless of whether you choose Shopify Payments or not – all gateways have additional fees to the transaction fees charged by Shopify. These vary by country and sales volume but expect to pay in the region of 1.5-3% with (often) a fee per transaction.
For example in the US using Paypal and monthly sales of $3 – 10k you will be charged 2.9% + $0.30 USD.
Using Stripe in Germany you'd pay 1.4% + €0.25 per transaction so long as the card is European.
You will need to ask around the various providers for the best rates in your country. Stripe is very competitive at the time of writing.
3) App Fees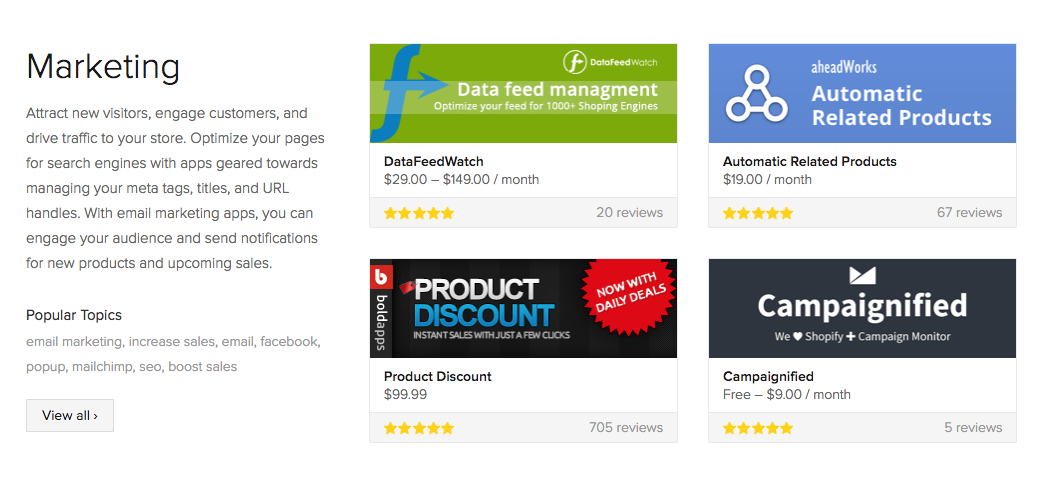 Almost all stores on Shopify use paid apps regardless of the Shopify plan. This is nothing unique to Shopify Plus – as all Shopify plans have paid apps – but clients moving from other platforms like Magento may scoff at the thought of paying a monthly fee for an app when they are used to fixed prices. Apps extend the core functionality of the platform to cover functionality not everybody needs. Some apps are free and some are paid. The paid apps range in price from a few dollars to a few hundred dollars per month.
Some apps are developed by Shopify. Many are developed by 3rd party developers/companies. And Shopify maintain control over the quality of apps in the app store.
Examples of apps include Quickbooks or Sage integration, Mailchimp integration and wholesale pricing. Generally speaking most apps are in the $5-30 bracket. But some niche apps cost a lot more.
Most Shopify Plus stores spend less on apps than a similar store on a lower plan because they often have custom work done to the store and have their own integrations. On average our Shopify Plus clients spend $100-200 per month on apps. The amount you spend on apps will very much depend on your business and needs. If you aren't sure then I'd budget $200 and be sure that you have a decent and experienced Shopify developer on board when selecting apps (because a few of them are best avoided for higher end sites).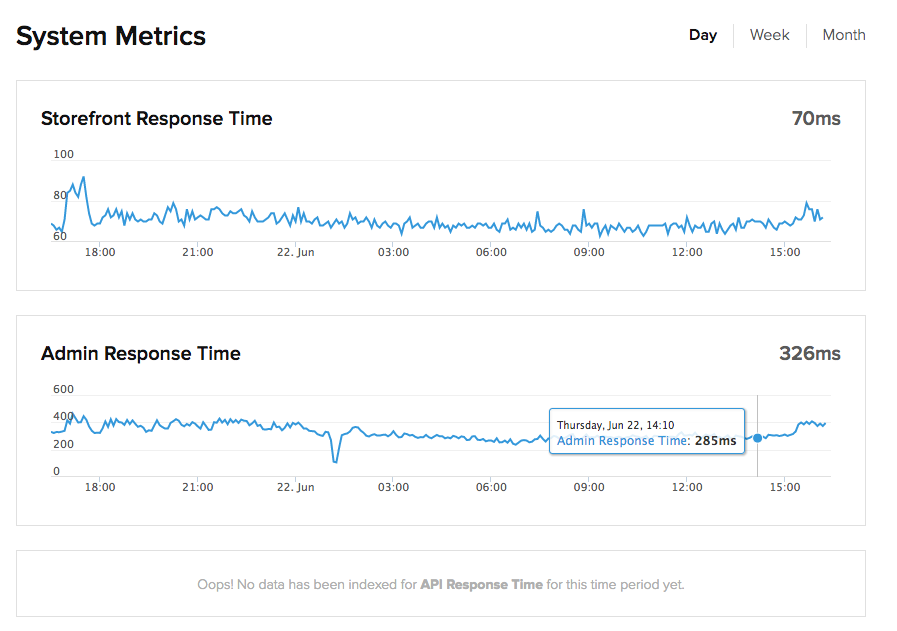 4) Maintenance Fees for Shopify Plus
All ecommerce stores have ongoing maintenance fees including Shopify Plus. In our experience – on average – the maintenance fees of Shopify Plus clients are 1/5th of the fees for maintenance fees on Magento. The simple reason being that you do not need to maintain your own server. Shopify do that for you and offer a 99.99% uptime promise for Plus stores. The core software is updated and maintained by Shopify also and so there's no need to do security updates or patches.
Contact us for help with Shopify Store Maintenance.
Is Shopify Plus Good Value
Hopefully I've answered this question already. Shopify Plus is the top most Shopify plan and is designed for enterprise class clients. It can absolutely be excellent good value for enterprise businesses who need a robust, low maintenance solution.
But it would be a killer for a small business with low sales. Only you will be able to calculate if it's a good value plan for your business.
If you're not sure if Shopify Plus will be the right plan for you financially I'd suggest starting on a lower plan and upgrading when the time is right.