Liquify are official Shopify Experts & Partners since 2014. If you follow a link to Shopify from our website and make a subsequent purchase this may result in a commission at no extra cost to you. Our opinions remain our own.
Need to hire a Shopify expert for your store? Designer, developer, setup or marketing? Whether you're looking for a Shopify expert or a Shopify Plus expert – get off to the right start by learning how to hire the best Shopify experts.  Here we will tell you how to hire a Shopify Expert the right way.
When it comes to e-commerce, you want to stand out. With the ease of accessibility meaning everyone from stay-at-home mums to big enterprises are looking to sell online, you need to deal with this competition (and no, we are not recommending a hitman!)

Most merchants have simple needs, they want a level of store customisation that suits their brand with functionality that complements their offerings and this is where a Shopify Expert comes in. Although a Shopify store is very easy to set up, doing it by yourself can take a lot of time, which is not ideal, particularly if you are running on multiple platforms or simply don't have the time to devote to it.
To answer this need, Shopify has cultivated a community of e-commerce specialists called the Shopify Experts. An official Shopify expert helps merchants on the platform, whether old or new, grow their online presence and ensure their success with the best services.  They will carry this badge on their website:
Where do I hire an official Shopify Expert?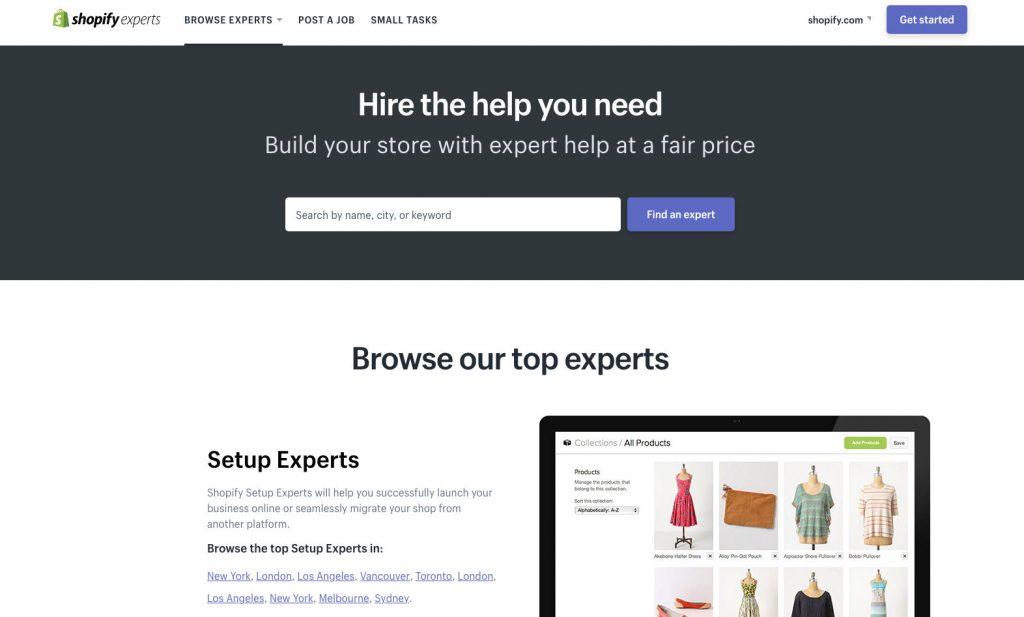 The Shopify Experts list has its own microsite within the main Shopify domain. You can search for an expert through the search box using the name or a keyword which is particularly useful if you are searching according to your niche.  Access the Shopify Experts directory here.
Key things to consider when considering which Shopify Expert to hire
You have several things to consider before you even decide to hire a Shopify expert.
What's the issue? You first need to identify the problem and what you're looking for so that you can find someone suitable, you may not need a developer for example, but could instead need a Shopify designer. Doing this makes sure you find the right kind of expert to help. And writing things down will help you get multiple quote quickly.
Location, location, location. Honestly, location means nothing because most Shopify Experts have no need to meet their clients face to face. It's all digital! Aside from saving time, effort and money, it also means you can working with expert Shopify developers or Shopify designers anywhere in the world and tap into their skills.  Most experts use online tools like Sketch and Invision to prototype reducing the need for face to face meetings.  Typically you'll pay 100% more for face to face meetings with a local Shopify designer/developer.  That being said, you can browse though the top Shopify Experts in almost any geographical location if you're looking for someone locally or in your time zone at least.
Pricing. We all don't like to admit it, but pricing plays a role in deciding which Shopify Expert to choose but don't be afraid to ask for the price. Seasoned Shopify Experts won't hesitate to give you a ballpark figure once you've given them a clear brief and description of what you want to change on your store. You can choose to work with Shopify experts who are more within the price range you are comfortable with because you can't be expected to outlay money on your business without first shopping around. So most Shopify developers or designers will already know this and be happy to oblige.
Check portfolios. How else do you know if someone is legit or the right fit for your brand? Most Shopify designers are adaptable but they may have general aesthetics that they adhere too or a lack of experience in your particular niche. So, looking at previous work can determine if it's going to work out. The projects made by reliable Shopify developers are often linked to their own websites so try them out, test how well they are made and how easy they are to use.   You can check our Shopify design portfolio here.
The last two considerations —price and portfolio—go hand in hand. You can actually gauge if the price of the services that the expert quoted based on the quality of the work they have done for previous clients.
Should I hire a developer who is not an official Shopify Expert?
The short answer is no – not if you want quality Shopify development work. Aside from your own peace of mind, the Shopify developers, photographers, marketing specialists, and designers are carefully vetted through a stringent process before they can even apply to be included in the Shopify Experts Program. And must demonstrate a high level of knowledge to be allowed to get in to the program. Shopify experts must also demonstrate a commitment to design & development on the shopify platform.
The people or companies that have been included in the Shopify Experts Program have been able to show that they are authorities in their line of work and have the experience to back it up! Why would you want to trust your business and brand to any less?
Are all Shopify Experts capable of design, setup, and development?
No. There are 5 categories:
Shopify designers – who deals with visuals.
Shopify Developers – primarily working on the back end and apps.
Setup Experts – deal with store setup and configuration
Marketing Experts – Can help give you the edge over your competition, bringing customers to your store through various digital marketing strategies like SEO.
Photography Experts – Helps draw attention to your products using strategic positioning and photography.
Some Shopify experts may only be listed under one category because of the specialty of their services, while some may have experience in a well-rounded package so this is one of the reasons why understanding exactly what you want is important.  You should also note that only some Shopify experts deal with Shopify Plus & so if you're using this platform rather than the regular Shopify platform you should hire a Shopify Plus Expert.
Need to hire a Shopify expert?
Contact us today for Shopify design, development and customisation. We're official Shopify designers, Shopify developers, setup and marketing experts and we work with Shopify Plus on a daily basis. We are passionate about everything eCommerce and we have the awesome skills to help your business grow and succeed online.
Reviews

Liquify Shopify Agency
Rated 5 / 5 based on 72 reviews.