Liquify are official Shopify Experts & Partners since 2014. If you follow a link to Shopify from our website and make a subsequent purchase this may result in a commission at no extra cost to you. Our opinions remain our own.
The steady growth of Shopify and increasing needs of merchants for experienced Shopify developers has opened a lot of doors in the field of ecommerce. But which Shopify apps should Shopify developers use?  First we're going to take a look at what Shopify apps are before moving on to which apps are the best for Shopify developers.
Apps are a cool way for Shopify developers to give users what they want and extend store functionality without having to re-write the same code over and over. Instead, Apps allow Shopify designers a way to give merchants interesting features or integrations that serve the wider marketplace too, so everyone benefits.
What is a Shopify app?  And why would a Shopify developer need one?
A Shopify app is a plugin for your existing Shopify store that adds certain features or functionality. You can choose from free and premium apps depending on your needs.  Some apps are more suitable for merchants and some are more suitable for Shopify developers/designers.  In general you should expect to pay for quality apps – to ensure that the developers maintain them and official Shopify apps are available in the Shopify app store.
Apps allow you to extend Shopify store functionality to meet merchant needs and keep up with the competition. Shopify developers can create apps for almost anything from functional back-end help to increased payment or inventory options, all the way through to marketing tools.  Here are the top 5 Shopify apps for developers (chosen by our Shopify development team):
Top Shopify developers use: Shopify Metafields App by Accentuate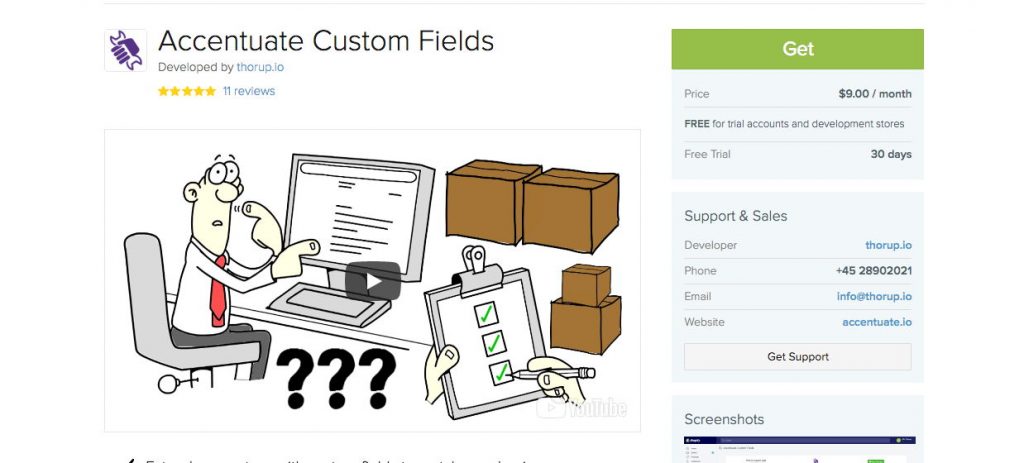 Custom Fields by Accentuate takes metafields to the next level. This app gives you greater customisation on your products, collections and blogs so that you can seamlessly define custom fields at an admin level. Shopify developers choose it because it gives merchants a super simple way to manage metafields.  It can be used for loads of things like: defining custom upsells/resells, adding landing page data, allowing merchants to create multiple landing pages from the same template, adding custom size charts, adding specific product data, defining global and customer metafields.  You can do just about anything with this app – it's a bit like what ACF for WordPress.
Top Shopify developers use: Shopify Scripts App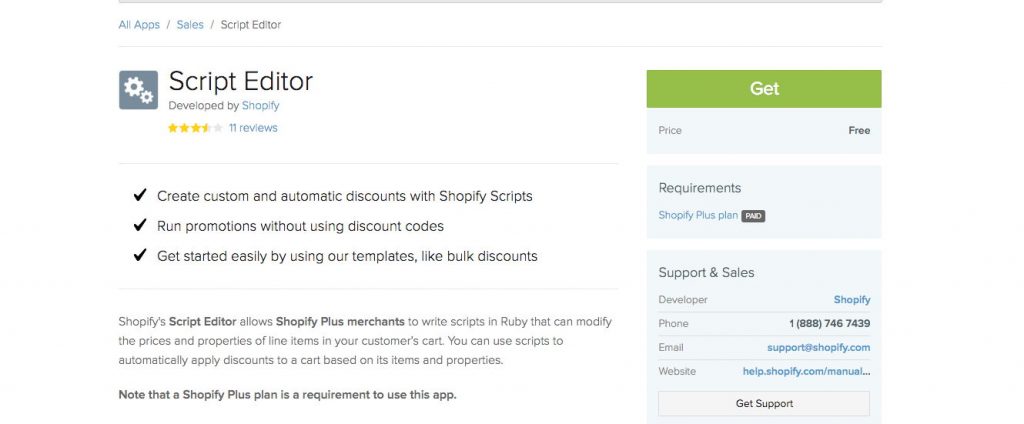 The Scripts Editor is a Shopify development app based on Ruby that allows developers to create discounts depending on what is in their customers' carts as well as provide other dynamic and interactive cart actions. This is excellent for high volume transactions as well as customising the payment experience to reward multi-purchases or other customer loyalty behaviour.
Aside from discounts, Shopify designers can further add value to the customer experience by allowing the Shopify developers to add more payment and delivery options to the store they are developing.
The downside? This app is only available to Shopify developers that deal with merchants in Shopify Plus. This app will not work on a regular Shopify store. If you are interested in upgrading to Shopify Plus then contact us.
Top Shopify developers use: Beanstalk App

Many Shopify designers and developers use Beanstalk to write and review the code of themes they are working on. To further boost Shopify development, designers can integrate Shopify with the Beanstalk app to import files from Git to Shopify. Once it is done, you can now use GitHub to build on or update the files from your store.
This means that you get an integration across both platforms to make changing or updating themes easy and seriously reduce the development time.
Top Shopify developers use: Power Tools App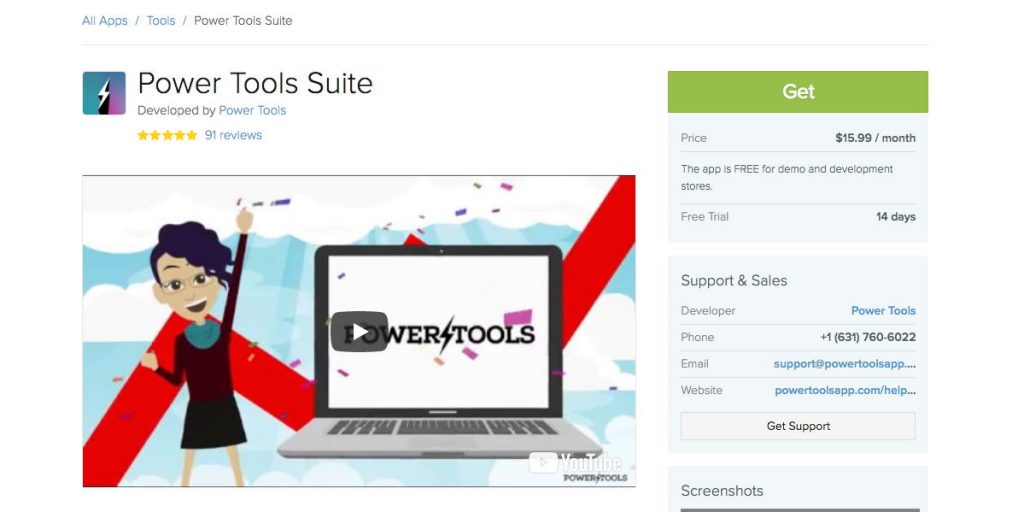 If you're looking for speed in your ecommerce development projects, Power Tools Suite is the way to go. The Shopify development tools from Power Tools that you use most often are bundled together so it is easier to manage and maintain your online store.  Deploy Smarter Collections, powerful tag filters, pricing rules and bulk actions that make updating large stores a dream.
It creates automated pricing, has smart deletion options and can create a trending product section to increase sales! It's the dream for any Shopify developers who want to automate and speed up repetitive processes.  And in the free version you can bulk edit tags which is super useful for managing collections and filters in large Shopify stores.
Top Shopify developers use: Replay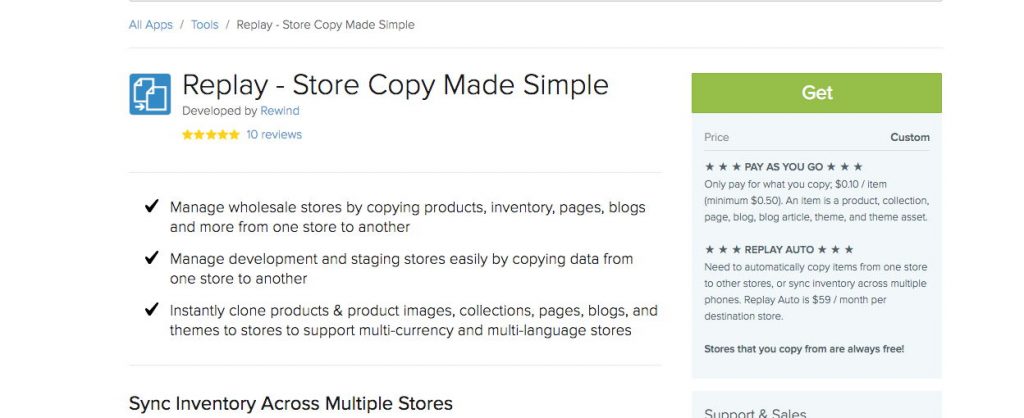 With ecommerce development and improvement in logistics, Shopify stores can cater to customers globally. But, with that huge potential comes a bigger problem. How do merchants deal with multiple stores, languages and currency? The typical solution with Shopify is to clone a store.  Replay is the app for Shopify designers who are dealing with stores that they need to set up mirror environments for quickly. This could be because the store offers the same products but in a different language or currency or it could simply be for deploying a staging environment.
It would be too time-consuming for even the most seasoned Shopify developers to do everything manually. What Replay does is that it copies the data on products, inventories, and blogs from one store to another as well as importantly syncing the data across all the stores so a sale in one will be reflected in all the others.  The only thing you need to do first is deploy the menu structure and then you can start to clone away.
Conclusion: Top 5 apps for Shopify Developers
Shopify developers need a range of tools in their arsenal which can change depending on the store they are working on or the needs of the client and apps help them get there. These are some of the best apps to help them do this to create lasting solutions in Shopify development and cater to the merchants they provide for.
Need to hire a Shopify developer? Contact Liquify Shopify developers today to see the difference certified Shopify Experts can do for your online store today.