Liquify are official Shopify Experts & Partners since 2014. If you follow a link to Shopify from our website and make a subsequent purchase this may result in a commission at no extra cost to you. Our opinions remain our own.
So, you've heard of Shopify! But, how does Shopify work? Chances are you may have used the Shopify platform as a customer without even realising but if you have an ecommerce store (or you need one) it's time to figure out how Shopify works and jump on the bandwagon.


What is Shopify?
Shopify is a hosted SAAS ecommerce service that allows its users to open up their very own online stores and sell their goods or even services.  You can sell online, in person, via Amazon, Facebook, Ebay…all from a single Shopify store.
The Shopify platform is simple and intuitive, all the while having a number of features that help you have a complete overview of everything happening in your store and your sales. Thanks to Shopify, many people have achieved great success in selling their goods and products so if you're wondering, "does Shopify work for my business?" the answer is most likely, yes!
Our team have been creating Shopify stores since 2010 and some of those stores we have created have gone on to scale to 7 figure sales within 12 months.   Simply put Shopify is the easiest and lowest cost route to running an enterprise ecommerce store.  It's also the fastest growing eCommerce platform in the world.
How Does Shopify Work?
The Shopify platform offers a complete solution for setting up an online store, so if you have products you wish to sell and make them available to your customers, you can easily create a store with Shopify to do so. The store creation is fairly straightforward, so even users with no prior experience will be able to do it easily (you don't even have to be tech savvy.)  All you need to do is sign up for a free trial below and start following the instructions.
So, how does Shopify work if you don't have products?
If you have products, great, put them on. If not, no problem. Shopify works with dropshipping apps too so your customers can order through you and the wholesaler or manufacturer fulfils the order their end!  The vast majority of Shopify stores are selling physical products and services and for this Shopify works perfectly.
There are also a number of Shopify plans and each plan unlocks different features within the platform and how Shopify works is that each plan is tailored to the type of merchant you are. Certain Shopify plans are more suitable to startups while others cater to large-volume or established merchants! Check out the Shopify different plans, features and pricing here.
How Shopify works depends greatly on the plan you choose and the level of customisation a Shopify developer does on the store. But after you have decided on a Shopify plan you'll have access to over 100 available templates or themes that are easily applied to your storefront.  As well as hundreds of apps that extend the core functionality.
The first step in seeing how Shopify works is to start a free trial. You can start a free trial below and learn about how to get an extended free trial with Shopify here.
The next step, after starting a free trial is to add products, which is super easy too:
Click "add a product," > enter product title > description >add an image (or two) > set up visibility > organization >and pricing> voila, sell, sell, sell.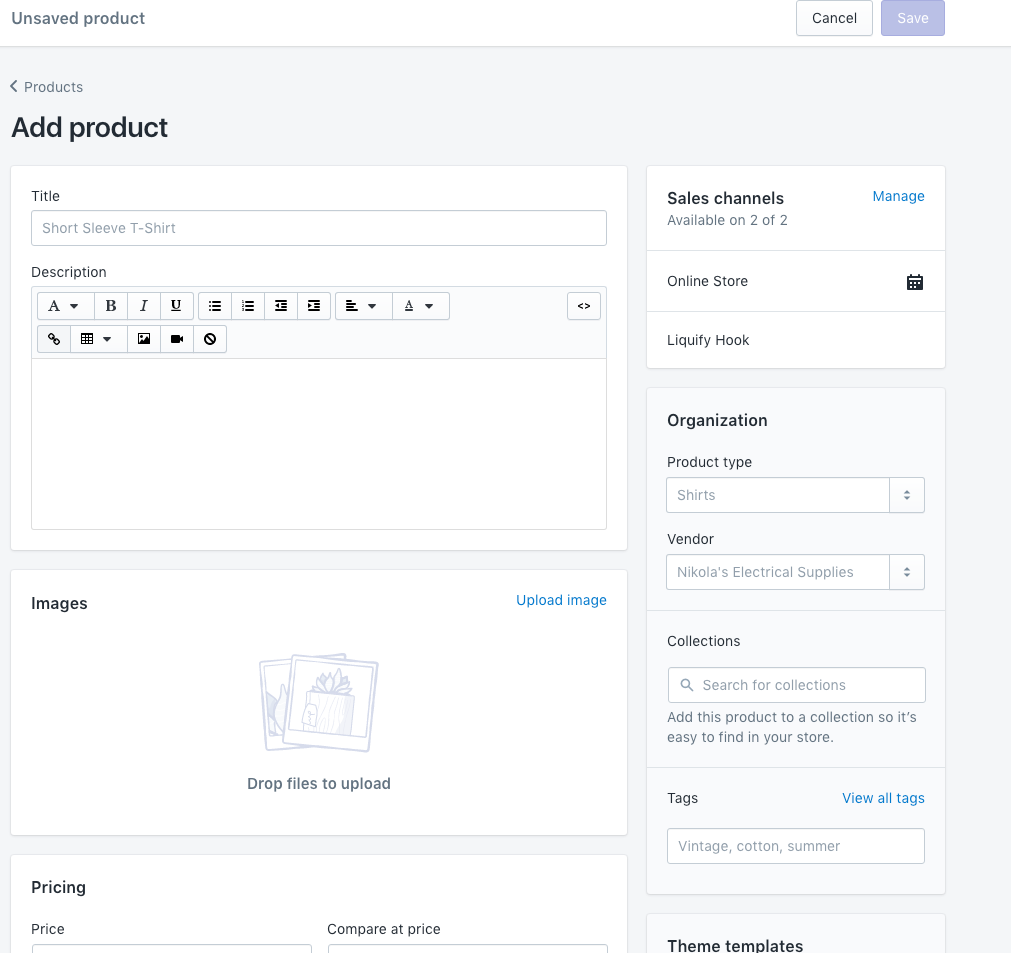 Of course – we're leaving out some of the small details like connecting a Paypal account or payment gateway and setting shipping rates etc but it's essentially as simple as selling on Ebay.
In case you are still confused about how Shopify works, you get a run through on the screen during setup and it's VERY simple to start as a new merchant. There are also a ton of apps you can browse in the Shopify App Store which you can integrate to your store to improve functionality and user experience.
Does Shopify Work?
If you are wondering whether Shopify is any good for you, the simple answer is – Yes. If you want to know how does Shopify work on a bigger scale, just look at their current statistics. They are one of the biggest SAAS eCommerce platforms available that currently powers over half a million stores and with figures like that, there must be a reason they are so popular.  Many large brands use Shopify including Tesco, Tesla & Budweiser.
Does Shopify Plus Work the same way?
Shopify Plus is the top most Shopify plan geared towards larger brands and established retailers. It works in the same way Shopify does but is a much more powerful version of the platform and for some can be more cost effective than other Shopify plans (because of lower transaction fees). See how Shopify Plus compares to regular Shopify plans here.
Need Help Getting Your Shopify Store to Work the Way You Want?
Does Shopify work for you? In case you are having trouble and can't seem to get your Shopify store to work how you want it to, feel free to reach out to our Shopify development team, who will gladly help you out with customisation, branding, integrations and more. Just drop us a line.