As the enterprise eCommerce platform, Shopify Plus is specifically targeted at large scale businesses with significant and growing profits. With a minimum monthly cost of $2,000, we're often asked at Liquify if it's worth it, and honestly, it's vital for features like having multiple staff accounts and being able to handle over 10,000 transactions per minute.
Shopify Plus benefits from extra flexibility, deeper access to your store's code, more support and other unique features. But, probably most notably, you get different charges on your transactions so if you sell in higher volumes you'll save on fees.
Because of the extra features than the standard Shopify platform, Shopify Plus starts to make sense for stores when they reach an annual revenue of around $1-2million.
But if you are still unsure and want to know the advantages of Shopify Plus and what this plan offers, here is our selection of the top 10 unique features of Shopify Plus, which would bring great value to your store.
1. Shopify Plus Script Editor
With Shopify Plus you have the ability to customise almost everything. Shopify Plus Script Editor gives you greater control over discounts, taxes, and shipping methods, as well as offering users customisable customer fields and payment methods.
Shopify Plus Script Editor can also facilitate the creation of custom scripts for line items and payment, allowing users almost complete control over their checkout process. Making everything run smoother for customers based on their purchase selections and geographical location.  You can even do complex stacked discounts which would never be possible on regular Shopify stores.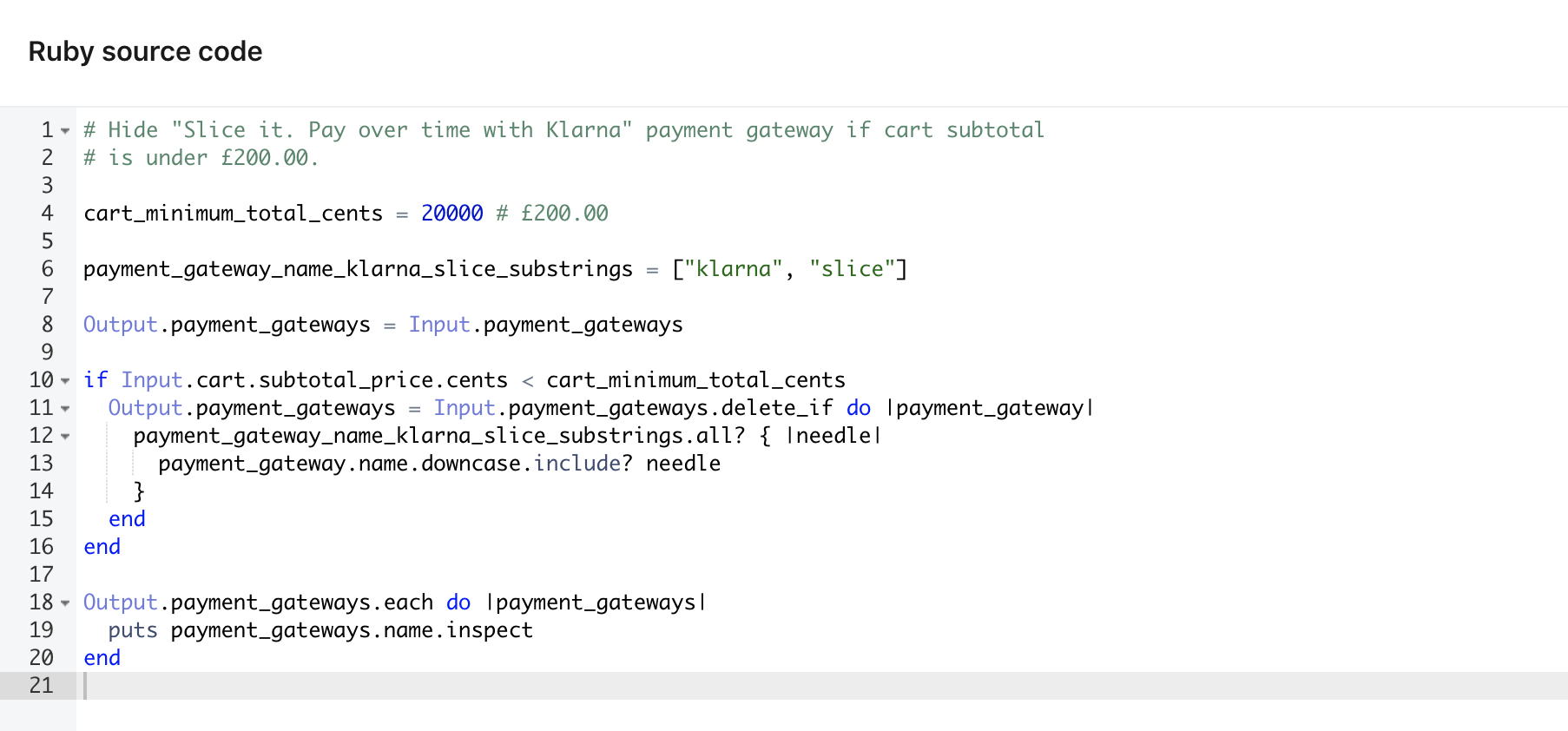 2. Shopify Plus Multiple Stores – Make your store globally accessible
Every thriving business needs room to expand, and with Shopify Plus Multiple Stores, that's easier than ever. The feature allows you to create and manage unlimited online stores, each able to operate in different currencies and languages, ensuring worldwide accessibility.
Your main store as well as a further 9 stores are included in the Shopify Plus Multiple Stores monthly fee, with each additional store costing an extra $250USD per month. Though the multi language capabilities have now been ported over to the standard Shopify platform as well, there are still plenty of Shopify Plus advantages to make the extra subscription worth it.
One of the most powerful Shopify Plus benefits is arguably the new dashboard design, allowing you to manage all of your stores, analytics, staff accounts, user permissions, and automation, all from one easy-to-use platform. Providing a thorough overview of all areas of a business, which makes Shopify Plus perfect for managing larger teams with a global reach.
3. Shopify Plus Pricing Model – Credit card fees
To begin with, the Shopify Plus Pricing Model carries with it a monthly charge of around $2,000, switching to 0.25% of monthly revenue for companies earning over $800,000 per month. However, it should be noted that Shopify Plus subscriptions can be tailor-made for users, so some terms may be negotiable and rates may change from country to country.
Compared to other Shopify plans, Shopify Plus has the lowest transaction fees which really add up if you have high volumes of sales when using external gateways. With other Shopify tiers charging between 2.4% and 2.9% (+ 30 cents per translation at every tier) the Shopify Plus Pricing Model is a lot more favourable for larger businesses using external gateways.
Shopify Plus Credit Card rates differ from country to country; however, all transactions carry an extra 0.15% fee if 'Shopify Payments' are not used. Shopify Payments is the in-house service, supported by Stripe, which removes the need for merchant accounts and payment gateways.
By way of example, with Shopify Payments, Shopify Plus credit card fees in the United States stand at 2.15% + $0.30 for domestic visa and MasterCard transactions, with an additional 1% for American Express.
To reiterate, rates will differ depending on the country, and Shopify Payments are not available in all locations, so some business will be stuck with that extra 0.15% until the service becomes available worldwide.  And like with all transactional fees – these rates are always negotiable.
4. Shopify Plus Wholesale Channel – Scale your business to wholesale
Selling products online isn't just about marketing to the public. The wholesale market presents growing businesses with massive opportunities for lucrative B2B sales. Thankfully, with the Shopify Plus Wholesale Channel, scaling a business to wholesale is easier than ever.
With password-protected storefronts exclusively for wholesale buyers and products and the ability to automate the whole process from signup to checkout, the Shopify Plus Wholesale Channel will make sure that big-ticket sales run smoothly and efficiently.
Just as with the other Shopify Plus advantages on this list, you remain totally in control when using the Shopify Plus Wholesale Channel. From wholesale-specific pricing and discounts to advance order review controls, you'll be able to create a wholesale environment tailor-made for customers and their industry, standing out from the crowd and resulting in less time spent fielding wholesale orders over the phone or via email.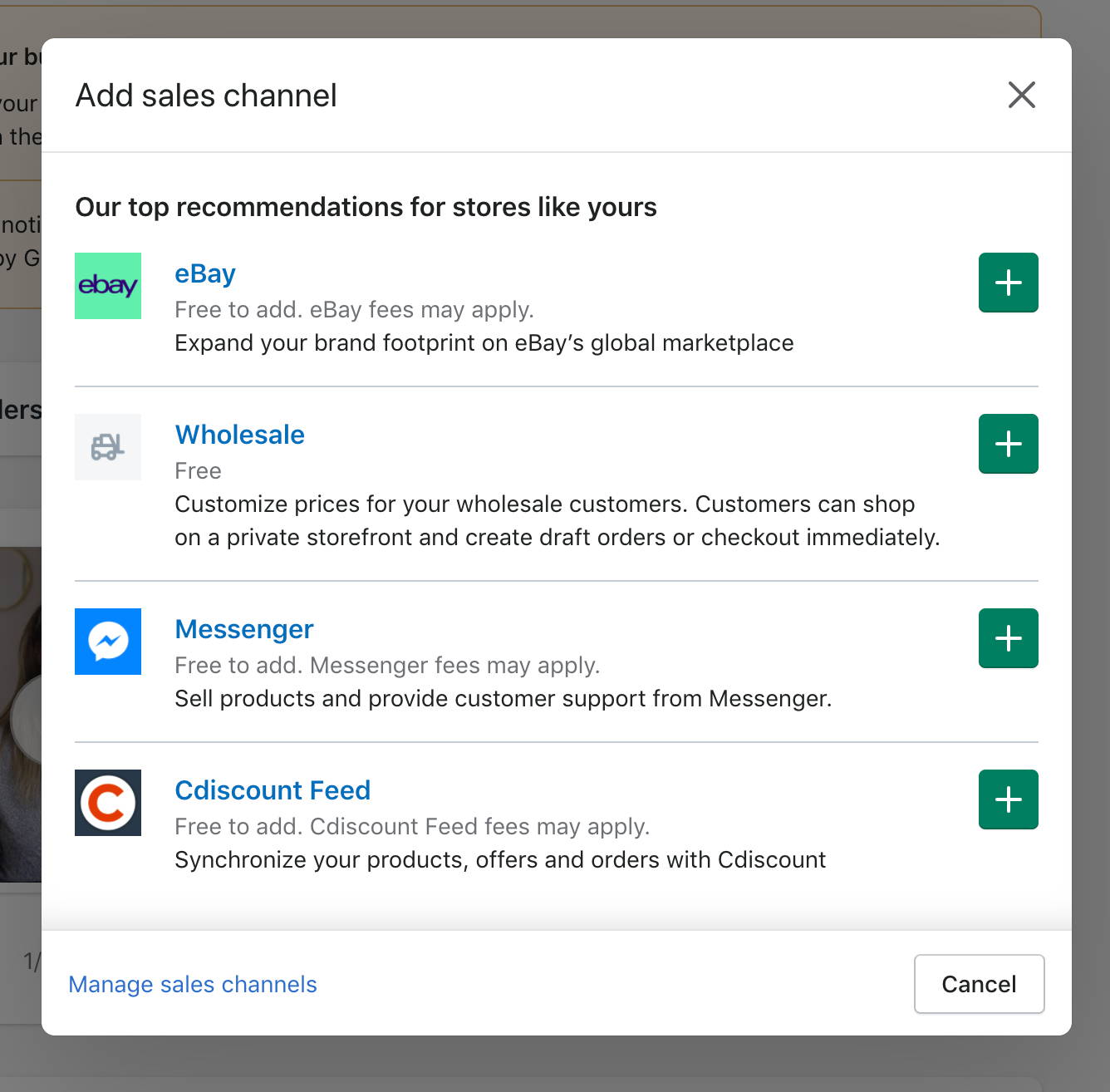 With all that in mind, one of the best Shopify Plus benefits is the ability to manage all of a business's storefronts, both B2B and B2C, in one place. No fuss, no hassle, just sales.
5. Shopify Plus Reporting/Analytics
Information is key to running any successful online business, which is why Shopify Plus Reporting / Analytics is one of the most valuable Shopify Plus advantages on this list. The extensive information offered allows you to make informed business decisions as to when and where to expand and how to plan the future of the company.
Shopify Plus Reporting / Analytics offers live viewing and product analytics, as well as unlimited reports on inventory, behaviour, marketing, sales, profit, and customers, among other things. To top it off, Shopify Plus customers also have access to unlimited custom reports, so you get precisely the information you want, whenever you want it.
6. Shopify Plus Flow – eCommerce automation saves time
Shopify Plus Flow allows you to create unique custom experiences for customers without ever having to write a single line of code. Customer service, design and development requests, merchandising, communications, marketing and advertising can all be tailored to specific industries and customers, ensuring the very best user experience possible.
By storing triggers, conditions and actions, Shopify Plus Flow allows you to start and stop promotions, control email segmentation, and deliver content to customers on a case-by-case basis. Through the tracking of individual customer purchases, Shopify Plus Flow can ensure that automated promotions and content are relevant and targeted, every single time.
7. Shopify Plus Partners – Certified partners to meet your requests
Shopify Plus Partners are a business owner's dream. A team of vetted 3rd party experts are on hand to help you get the most out of your Shopify Plus benefits, offering highly specialised solutions for high-growth businesses.
Shopify Plus Partners are a group of hand-selected companies that are certified by Shopify as experts in their fields, guaranteeing the very best service. Partners are available to assist with pretty much everything a growing business could need, including web design, product development, wholesale, consulting, taxes, and shipping solutions. If a business has a problem, a Shopify Plus Partner will have a solution.  Note that due to demand the vast majority of Shopify Plus partners are booked up and most are not taking on new clients.
8. Shopify Plus Exclusive Apps
Standard plans on Shopify grant users access to a wide range of useful applications, designed to make it easier than ever before to run an eCommerce business. With a Shopify Plus subscription, however, you'll gain access to an even more extensive range of digital tools, including specific Shopify Plus Exclusive Apps.
These apps represent a whole host of Shopify Plus advantages, and are certified third-party apps that work seamlessly with Shopify Plus. In fact, some of the Shopify Plus Exclusive Apps have already been mentioned in this article, including the Shopify Plus Script Editor, Shopify Plus Flow, and Shopify Plus Wholesale Channel.  Some apps will have a version for Shopify Plus as the features are different on Plus and the API rate lower.
9. Shopify Plus Help & Support and Shopify Plus Academy
Shopify Plus Help & Support and Shopify Plus Academy offers users dedicated support, tailored to individual needs for businesses and their owners. The service includes a dedicated launch manager to support you during the setup and migration process.
Shopify Plus Help & Support and Shopify Plus Academy also helps with third-party integrations in order to make the inclusion of partners as easy and smooth as possible, as well as providing a merchant support manager to generally assist with ensuring site growth and success.
10. Shopify Avalara/Avatax – Business tax compliance
Shopify Avalara/Avatax is a Shopify Plus benefit designed to assist with tax calculation and compliance. The service offers real-time tax calculation and automatic returns filing, making compliance as easy as possible. The software will even tell users how much tax to charge on each individual invoice, taking control of tax at every level of the eCommerce business.
Shopify Alvalara/Avatax is especially useful in the United States, where companies are required to file taxes in every state in which they have made sales, a chore that is now automated with Avalara.
Note: Avalara / Avatax subscriptions are charged in addition to the usual Shopify Plus monthly cost, with tax automation coming in at an extra $250USD per month.
Summary
Shopify Plus offers businesses and users all of the flexibility they need to grow and expand beyond the realms of what would be possible with a normal Shopify plan. Though the monthly subscription of $2,000 may be daunting, the features boasted by Shopify Plus, if utilised effectively, can help any eCommerce store to boost their earnings and break new markets. For the high-flying businessperson who wants maximum customisability and control over their online store, Shopify Plus has everything you need.
At Liquify, we are world-leading Shopify Plus experts who can help you manage design, customisations, and migrations from different e-commerce platforms, integrations, and the creation of apps for Shopify Plus. Please contact us if you are considering moving your store to Shopify Plus.  We will help manage your SEO correctly & get you get setup in the most streamlined and sensible way.