Thanks to Shopify Instagram App integrations, merchants can have a Shopify Instagram feed featured directly on their store page. This enables you to get more Instagram likes and followers expanding your reach and boosting sales.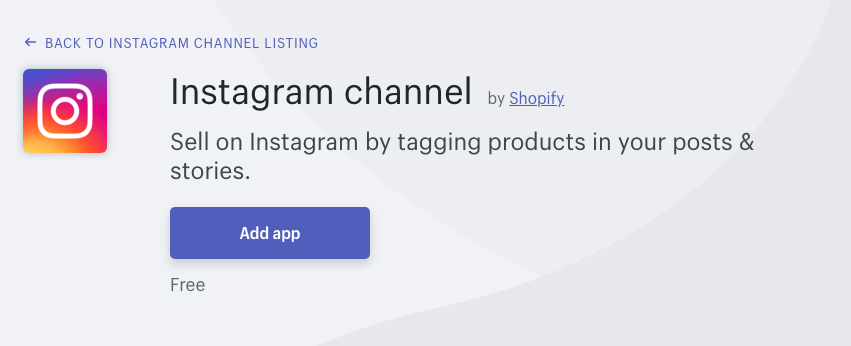 Why the Shopify Instagram App?
Every successful eCommerce business should be active on social media. With powerful tools to segment and target your audience, it's an effective way to make personal connections with customers.
Thanks to its popularity, Instagram has become the main social media platform for eCommerce for industries like:
Beauty
Fashion
Jewellery
Travel
Home decor, and more.
Many users prefer to find new brands and products through Instagram, and statistics show that 30% of shoppers are inclined to buy from social media platforms directly, while 72% of users have bought a product they've seen before on Instagram.
With the Shopify Instagram app, businesses can get more followers on Instagram meaning your products will reach a wider audience through posts and stories.
Instagram can be integrated into your Shopify store by installing the Shopify Instagram app from the Shopify App Store. You can then set up a Shopify Instagram feed on your website.
Instead of just having a plain social media button, you can engage your visitors with a beautiful Instagram gallery directly on your website. This will help you turn those visitors to Instagram followers, and then, you can focus on converting them to customers.  
Selling Directly from Your Shopify Instagram Feed
Previously you could only use Instagram to grab the attention of your followers and visitors through posts and stories you posted. They still had to navigate away from Instagram to buy your products. But, as of 2017, you can sell directly from Instagram with "Shopping on Instagram." This feature allows you to tag your products in posts or add stickers and sell directly in the Shopify Instagram app.
In addition to tagging products in posts, as of October 2018, merchants can also add shopping stickers to Instagram stories. Since stories are only active for 24 hours, you can share exclusive limited time offers with your followers and targeted audience or choose to highlight new products or product lines!
Instagram Explore is also getting the "Shopping" category where offers will appear based on the user's likes, which means that you will easily be able to target your audience with exclusive offers.
Shopify Instagram Feed Boosts Conversion Rates
Having a Shopify Instagram feed that showcases the most popular or latest Instagram posts as a gallery directly in the store will inspire visitors to browse through collections and help them discover new products.
Most visitors don't convert on their first visit, but by getting them to follow you on Instagram you can keep them in the loop and nurture them for later. Posting stickers to your stories lets them know about new products and exclusive offers without being a hard, direct sell. Which often makes them more likely to convert.
When done correctly this Shopify Instagram collaboration can boost your conversion rates. Plus, it offers you a way to stay in touch organically with your customers!