Liquify are official Shopify Experts & Partners since 2014. If you follow a link to Shopify from our website and make a subsequent purchase this may result in a commission at no extra cost to you. Our opinions remain our own.
Thanks to the Shopify App store, merchants have access to an array of Shopify plugins and Shopify apps for every possibility. From marketing and customer support to inventory management and finding suppliers, you can fully customise the look and feel of your store and improve your marketing and conversion too!
So, how do you use it? This is the beginner's guide to the Shopify App Store.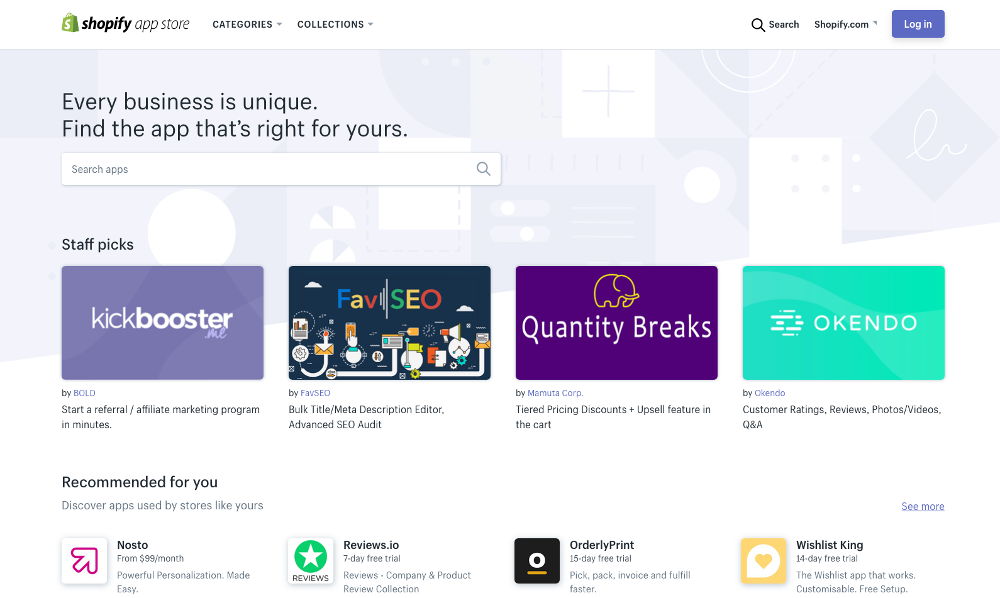 How the Shopify App Store Works
The Shopify App Store is a platform where merchants can purchase and install apps made by app developers who are part of the Shopify Partners Program. Apps have been downloaded over 12 million times since 2011. In September 2018, the app store relaunched to help merchants find Shopify plugins and Shopify Apps more easily.
What the New Shopify App Store Brings to the Table
The new changes to the Shopify App Store were done based on merchant feedback about what's missing and what matters to them most. The new store features a superior structure, search options, categorisation, recommendations, and overview.
The most important updates to the store include:
Improved categorisation option – A larger number of categories and 80 new subcategories gives a better app and plugin overview making it easier for merchants to find what they need.
Redesign of app listing pages – Now, when you visit the Shopify apps pages, you will see the most important information first: what benefits it brings to your store, how much it costs, and what kind of support it includes.
Improved search options – Search now includes additional filters that can really narrow down app selection based on specific needs.
Improved Recommendations – Listed based on app functionality and usefulness to a specific merchant. Recommendations will also become more personalised based on what the merchant uses already.
Searching the New Shopify App Store
The main Shopify App Store landing page is easy to use and will give you a fully personalised list of suggested apps based on your store. Plus, it will show you the apps you previously installed and searched for.
If you haven't installed any Shopify plugins or apps before, you will get a list of the most popular categories and overall highest rated.
There are three ways you can find what you need for your store:
1. Using the Search Bar
Simply start typing the query you are interested in. Shopify will also suggest additional terms to help you. Then, you can filter results by:
Category
Pricing options
Results by their relevance to the search term
The popularity of apps and plugins listed
How old they are
2. Categories and Subcategories
You can browse a specific subcategory or all apps and plugins within the category.
3. You can browse 'Collections'
These are predefined collections of Shopify apps and plugins that centre around a specific theme, like growing your business or apps that work with Shopify POS.
If you want to discover new Shopify plugins and apps, you can also take a look at the latest Staff Picks, which highlight apps that Shopify staff feel provide great benefits to merchants. You can also take a look at Trending Apps or explore Shopify apps that are quickly climbing the popularity ladder.
The new Shopify App Store hosts a bunch of improvements to make finding the right apps a breeze. Visit the store today and see how you can improve your business.