Liquify are official Shopify Experts & Partners since 2014. If you follow a link to Shopify from our website and make a subsequent purchase this may result in a commission at no extra cost to you. Our opinions remain our own.
In the world of eCommerce, Shopify vs WordPress (WooCommerce) is a big dilemma for a lot of entrepreneurs who decide to open and grow their online business. Both are suitable for new businesses and Shopify and WordPress do have common traits, like a straightforward setup and apps stores. But, they also have some key performance differences in other areas.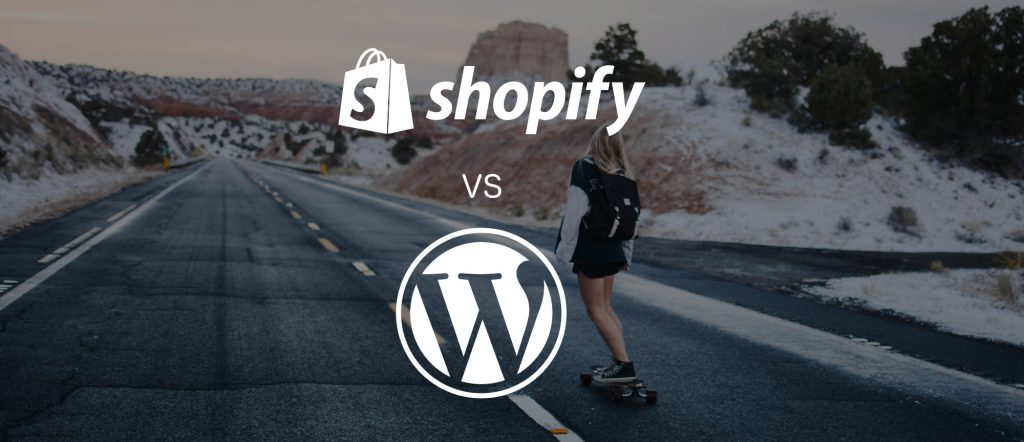 This should give you a good overview of each platform, their capabilities, and a side-by-side WooCommerce vs Shopify comparison of their dedicated eCommerce functionality to help you make the right choice!
Shopify vs WordPress – Who Are The Contenders?
Let's start with an overview of each contender. When comparing Shopify vs WordPress, it easy to get lost in all the features they offer. Although both of them are Software-as-a-Service (SaaS) solutions, they are very different services and cater to different audiences. From setup, hosting options, all the way to content management, SEO, and eCommerce, Shopify and WordPress cover each of these areas in a very different way.
Shopify
Shopify is a fully- hosted, cloud-based platform, which means that you don't need to install any software to your computer, download and roll out updates, arrange your own hosting, or manage security and data backups. All that is taken care of by Shopify. The platform also comes with website templates, allowing anyone to set up an eCommerce site in minutes.
WordPress
WooCommerce, a subsidiary of WordPress, is not hosted; this means that software will need to be downloaded to your computer, updates installed manually, and security and backups managed independently. There's potentially a lot of additional work to be done to set up with WooCommerce, but there is scope for greater control of the components you choose.
Shopify vs WordPress – Practicality
In terms of ease of use, from the moment you sign up, it's hard to beat Shopify. A range of customisable templates – with a simple drag-and-drop design feature – makes it straightforward to get your eCommerce site up and running quickly. Everything else behind the scenes is taken care of by the platform.
That said, the tightly- controlled Shopify environment isn't for everyone. WooCommerce provides greater flexibility in all aspects of running a website. For those unfamiliar with setting up an eCommerce site, however, this platform can make the practical aspects very challenging with a steep learning curve.
There's a guide to help you get started, but it's simply not as user-friendly as Shopify's step-by-step approach. Plus, with Shopify you can ask Shopify Experts for help, which is a support system that WooCommerce doesn't have.
Shopify vs WordPress – Design, Themes, and Performance
With Shopify and WordPress going head to head in setup, it is no wonder they are competitive about their design and template options too. Both offer free and paid themes and templates.
WordPress has more themes to choose from but they aren't always optimised for all platforms and devices, which can impact performance considerably and lead to a loss of customers. A lot will depend on which WordPress host you use – the cheaper the package the lower the performance.
Shopify however, offers sleek and fully optimised themes that perform well on any platform, but there are fewer choices. That being said, you can get your own custom themes built by Shopify Developers if you want something more bespoke.
Shopify vs WordPress – Cost
From a financial perspective between WooCommerce vs Shopify, running your business on each platform, Shopify Plans start from $29 per month. The basic plan comes with the essentials to get you started including:
Unlimited product listings and file storage
2 staff accounts
Discount codes
An SSL certificate
Fraud analysis
Abandoned cart recovery
24/7 support
The next plan up comes in at $79 per month, with all the basic plan features, as well as;
Professional reports
Gift cards
5 staff accounts
It's most suitable for companies that are established and in the process of growing. Shopify's advanced plan is $299 per month but is focused more to scaled businesses and the enterprise level solutions that they need, like third-party shipping and multiple staff accounts.
WooCommerce is actually free to use. However, businesses using WooCommerce must make their own arrangements for a domain name, hosting, SSL certificate, data backup, and security. This can cost anywhere upwards of $90 per month, depending on the demands of your business. Plus, you need to factor in the time to learn and set these up yourself as there is minimal support to get it going.
Shopify vs WordPress – Hosting
An important difference between Shopify and WordPress is ease of setup. Shopify is a fully hosted solution, meaning that it's taken care of for you.
WordPress setup, on the other hand, requires more technical skills because it's a self-hosted option: if you choose WordPress, you will have to find a hosting solution for your website and then install WordPress on the hosted server for your website to go live. To use WordPress for commerce, you will also need to install a dedicated eCommerce plugin called WooCommerce. Comparing WooCommerce vs Shopify shows that Shopify offers the easier and more convenient way to set up your online store.
Shopify vs WordPress – Security
Shopify is safe and secure, using a Level 1 PCI compliance, as well as offering SSL certificates as part of your basic plan. WordPress means you'll need to source and setup all of these yourself which can lead to gaps in your security that you don't know about until it's too late.
Shopify vs WordPress – Which Should I Choose? 
When comparing Shopify and WordPress, both platforms have their merits, so you'll need to consider what you'll primarily be using it for. If your business is digital or content-based, WordPress will probably win out on the functionality versus cost. But, if you're a new merchant looking for an eCommerce platform to help you sell, Shopify wins every time because it's a full SaaS solution with quick, easy and supported setup.
An alternative to Shopify vs WordPress – Integrating Them Both
If you wish to reap the benefits of both platforms, you can integrate Shopify to your WordPress website. Without needing any additional plugins or purchases.
To bring Shopify and WordPress together, you will need to access your Shopify store's admin and create a "Buy button". This generates a HTML code that can be added to your WordPress posts. Add to your posts by clicking on "Add new post" in WordPress, or edit an existing one and switch to "text view" where you paste in the HTML code in the desired location. Switch back to "visual mode" and you'll be able to see your button and edit or update the post as usual.
You can also add your button as a Widget around your site by accessing:
WordPress Dashboard > Appearance > Customise > Widgets. Add a HTML (or text) widget and past your code in there. This box can then be placed on your sidebar or within your site layout. Click save to save changes.
Picking your eCommerce platform can be hard, but knowing the difference between Shopify and WordPress should make the decision easier! If you need any help, contact our Shopify Experts to help you make the decision.