Liquify are official Shopify Experts & Partners since 2014. If you follow a link to Shopify from our website and make a subsequent purchase this may result in a commission at no extra cost to you. Our opinions remain our own.
eCommerce hosting for your online store can be difficult to nail down, because of the sheer amount of options available.  Choosing the best eCommerce website hosting is essential because it is responsible for the performance of your site and therefore experience to your customers.
As a merchant, you'll need to decide between a Saas hosted solution like
Shopify and a self-hosted solution like Magento or Woocommerce.
Let's look at which is actually the best, cost-effective solution for your eCommerce web hosting.
Understanding The Different eCommerce Hosting Options
Understanding the fundamental differences between various eCommerce web hosting platforms is crucial to make an informed choice on which one would best suit your business. All eCommerce website-hosting platforms can be divided into two distinct categories: self-hosted and fully hosted platforms.
Self-Hosted eCommerce Hosting
The most common options for self-hosting are WooCommerce and Magento. Where you set them up and go. With a self-hosting platform, as the name suggests, you are responsible for hosting your store. But, you're also responsible for setting up the server, data, files, compliance, backup and sourcing (or paying extra) for support and critical security updates.
Whilst you think this may be cheaper, it's actually a false economy because you pay more in maintenance costs and security updates. These self hosted solutions come with more serious security issues and have a lack of support if you get into trouble. You will need to ensure you're using a PCI compliant server if you are capturing and storing credit card data.
Shopify SaaS eCommerce Hosting
Shopify is a fully hosted platform, often referred to as a SaaS (software as a service) solution, because everything is included. Hosting, unlimited bandwidth, safety, uptime, email forwarding, custom domain names, Content Delivery Networks (CDN), and no hidden fees that drive up the price. All your security updates will be taken care of and downtime is pretty much non existent. The servers Shopify uses are blazing fast worldwide and fully PCI compliant so you can safely accept payments.
Which eCommerce Hosting Should I Choose?
There is a clear winner if you're looking for eCommerce website hosting that is reliable, cost-effective and secure for your store. In the long run, self-hosted options are more expensive, because of maintenance and security updates with limited support, and not as secure or inclusive as Shopify's SaaS solution. Shopify has been rated the best ecommerce platform for 5 years in a row and is currently rated the best ecommerce platform for 2019 by our developers. It's simple, secure and scalable.
Other Things To Consider With Your eCommerce Hosting
Each eCommerce hosting platform comes with their own features but you should take a closer look at if they have the following if you want a successful store that meets your needs.
Reliability
In order to ensure that your store is available to your customers around the clock, check the platform's uptime. If uptime is below 99%, consider another option. The servers should also be fast, scalable, and have excellent bandwidth allocations. This ensures your store can handle higher traffic when you offer special discounts or want to expand.
Shopify offers 99.99% uptime
Support
If your store goes down, how fast and effective are the support that is provided to you. Remember the longer your store is down, the more potential sales you're losing. So make sure the eCommerce web hosting you choose has an excellent support function.
Shopify offers 24/7 support
Setup
Choose a platform with a quick and hassle-free setup so you can get your eCommerce store up and running quickly. A full SaaS eCommerce web hosting solution like Shopify will ensure your store is online in no time. With a self-hosted solution, you will need more time to configure the server.
Shopify is the simpler of them all to set up.
Safety & Compliance
The platform should be PCI (Payment Card Industry) compliant so that all financial data from your customers is safely stored. Shopify offers level 1 PCI compliance, so you don't have to set it up yourself.
Shopify is PCI compliant
CDN Options
Content Delivery Networks (CDN) ensure that your store loads quickly, no matter what country it is being accessed from. With a CDN, your store's data and images will be cached on numerous servers around the globe. This way, when a user demands access to your website, they will be connected to the nearest server to ensure fast loading times.
Shopify has a built in CDN which is very fast. You can pass a self hosted store through a CDN but it will probably cost more than Shopify.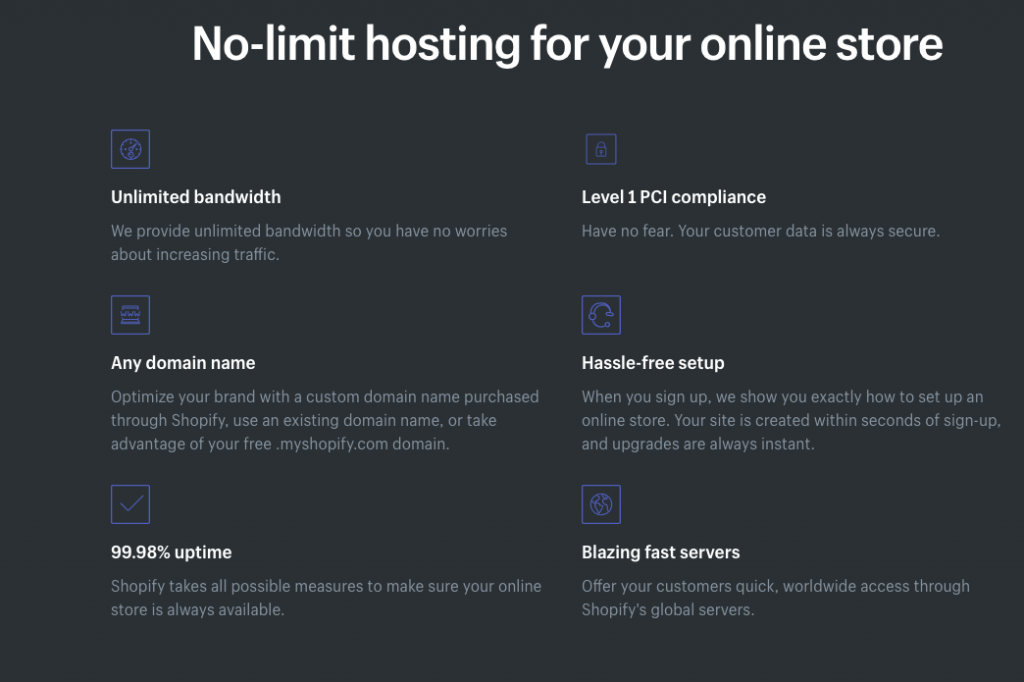 If you need help choosing an eCommerce hosting option, contact our Shopify Developers who can see what suits your needs.