At Liquify we've been huge fans of the introduction of the Shopify Plus platform. The platform has taken huge strides since being introduced and is now firmly the leading enterprise class ecommerce solution.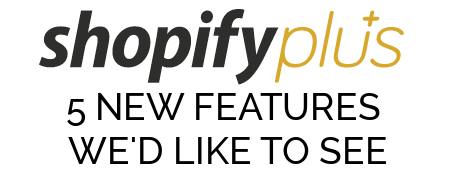 You're basically looking at a two horse race in eCommerce at the enterprise level: Shopify Plus or Magento. In our eyes Shopify Plus is a much better investment these days with lower ongoing costs and a quicker launch time.
Whilst we've written already heavily on the benefits of Shopify Plus as well as a comprehensive review of Shopify Plus we've not written much on the pain points for merchants or the downsides of Shopify Plus.
Today we're going to discuss 5 features we'd like to see added to Shopify Plus over the coming years. These are the top five features we'd like to see added to Shopify Plus and have come directly from working with Shopify Plus merchants. They aren't really disadvantages of Shopify Plus for the average merchant but for some they are. We would like to see these features addressed in the future to Shopify Plus.
1 Multi-Currency Checkout for Shopify Plus Stores
We've said this many times and here we'll say it again: we would love it if Shopify Plus was extended to allow multi-currency checkout. Currently there are no options for multi currency checkout through a single Shopify store as there is with Magento.
The current solution is to have multiple clones of the same store on subdomains serving different geographical regions. And whilst this works perfectly in cases where different languages need to be used also (it's better for SEO to have multi-lingual content on subdomains) it's a pain point for Shopify Plus merchants who wish to offer a single language and multiple currencies at checkout. These merchants basically need to sync up multiple stores to accept multiple currencies simply because Shopify doesn't support multiple currency checkouts. Each Shopify store can only have one checkout currency.
Whilst many payment gateways accept multiple currencies, Shopify itself doesn't handle multiple currency checkout from one single store which can be a problem for some merchants. It would be amazing if this could be changed for Shopify Plus merchants. Like I said, it's a pain point for merchants who simply want their content in one language and to accept multiple currencies at the checkout.
We think this is one of the main disadvantages when it comes to Shopify Plus and so would love to see Shopify roll out a multi-currency checkout for Plus merchants.
2 Customisable Back End for Shopify Plus
In the future we'd like to see metafields being bundled into the Shopify core to allow us to add custom fields directly in the admin and have them appear directly on the product/post/page admin without having to use an app. It should take inspiration from the awesome advanced custom fields (ACF) plugin for WordPress – with a repeater function.
This won't mean much to the non-developers – or even developers who are not familiar with Shopify. In short and non-technical terms: metafields allow us to add custom data to products which is then displayed on the front end of the website (e.g. a custom size chart or a designer headshot for a product).
Currently these additional fields of information can be added but it needs to be done so through an app which makes the process a little less user-friendly and time consuming. Our Shopify Plus clients want everything to be as simple and fast as possible and almost always they need metafields.
And we'd also like to be able to brand the backend for our Shopify Plus clients. Adding their logo and brand colours. It's nowhere near as important but we think at en enterprise level it would be nice to be able to do this for clients.
3 Staging/Sandbox Zones for Shopify Plus
We'd like to have a simpler & quicker way to roll out changes and test new apps/themes for Shopify Plus merchants.
It's very easy to clone a store design/theme with Shopify but it's not very easy to clone everything we need to test fully and to roll out a staging site.
With one click (and only one click) we'd like to be able to clone an entire Shopify Plus store into a sandbox environment. That copy would take everything including apps, payment gateways, customers and all history and put it into a sandboxed developer area which would be inaccessible to customers.
From there we could tinker with the theme or build new apps without having to worry about if we've copied everything correctly manually. It would save us time and allow us to roll out changes faster.
4 Same Server App Hosting
A big pain point we've had with some Shopify stores is that they are running apps which are hosted on second rate servers. Shopify Plus itself has a pretty sweet server uptime of 99.99% using the Fastly CDN but if an app on a Shopify Plus store is running on a server which doesn't have the same level of uptime then what you have is a potential problem. Not many people know this but for every app which affects the front-end you are essentially reducing your uptime.
Using an app with your Shopify Plus store which is hosted on a rubbish server is a bit like putting cheap tyres on a formula one car. At some point they're going to blow and when they do it will be ugly.
Some apps which have been allowed into the Shopify theme store have caused problems with stores because their servers are not the best. These servers don't offer the same uptime as the Shopify Plus CDN and if the app is coded badly (i.e. doesn't fail silently) then you could end up with lost sales. We've seen it happen and we'd like to see it stop.
Imagine a Shopify Plus store with 10 apps all running on different servers and if one of those fails then the whole website fails. There goes the downtime promise of 99.99%. Whilst we appreciate this isn't Shopify's direct fault we'd like to see more control over app hosting – especially when it comes to Shopify Plus stores (since downtime is usually more costly to them than regular merchants).
We'd like to see all apps in the app store being deployed/hosted on the same origin server as the stores. That would solve the problem.
In the meantime we suggest you choose your Shopify apps carefully…especially if running on Shopify Plus. You need to know how the app is hosted and if it's a front-end app you need to be absolutely sure it's going to fail silently before using it. Otherwise you'll be inviting expensive downtime.
A great solution here for Plus clients is to use the ruby Scripts app. This powerful little app will allow any decent Shopify developer to add custom code which can replace apps – especially those for the front end. Leading to fewer server dependencies.
5 Custom URL Re-writing
Re-platforming is a huge decision for established online merchants. Many merchants look to move from Magento to Shopify since it's become a better business decision.
One thing which many merchants worry about when migrating to Shopify (or any platform) is their SEO positions may be affected. Most merchants who contact us for migration to Shopify are very concerned about this and rightly so. 'Can we maintain our Google positions?' is usually one of the first questions they ask. Healthy Google positions are their main asset.
With Shopify you do have some limitations on the URL structures which can make migration tricky for some merchants. There are some URL structures which can't be changed within Shopify and even though things can be redirected with a 301 – it would be slightly better for SEO to maintain the exact same URL structure as the original store – especially if it's an aged store.
The reason is that you that you do lose some link juice (SEO power) when doing 301-redirects instead of mapping directly to the same URL structure. We'd like to see Shopify Plus offer merchants complete control over the URL structure of their store for the simple reason of maintaining SEO positions when migrating from other platforms. This won't affect many Plus merchants, only some.
Conclusion
Shopify Plus is in our opinion the leading eCommerce solution for enterprise class merchants for 2018 and beyond. We've covered the main benefits of Shopify Plus along with a comprehensive review of Shopify Plus. These five features above are what we'd like to see added to Shopify Plus over the coming couple of years to make this platform even better. Watch this space…hopefully our requests will be answered.