Liquify are official Shopify Experts & Partners since 2014. If you follow a link to Shopify from our website and make a subsequent purchase this may result in a commission at no extra cost to you. Our opinions remain our own.
Shopify login is straightforward and simple, which is why many users opt for Shopify as their e-commerce platform of choice. Even if you stumble upon Shopify login problems, they are often resolved quickly! Thanks to its convenient restore options and a dedicated support team of Shopify Experts, logging in issues shouldn't impact running your store.

Shopify Login – Navigating the Shopify Login Page
If you want access to your Shopify admin dashboard, you'll need to login to the Shopify login page which offers you two options: via desktop, or via dedicated iPhone/Android apps.
For Desktop Login: Go to your login page and enter your store domain name; for example, mystore.myshopify.com. Then, simply enter your email and password and click the Log in button.
For iPhone or Android Login: Download and install the dedicated Shopify app on your individual device (grab them here.) The login page will appear as soon as you start the app after installation. Choose Log in and enter your email address and password.
If you have multiple stores on the same email address, you will have to enter your store's domain name ending in myshopify.com to specify which store you are logging in to.
Shopify Login to Multiple Stores
To log in to multiple stores, simply:
Login to the Shopify app> tap Store > account name > Log in to existing store.
Enter the email address and password for that store. To view other stores, tap Store, the account name on the top, and then choose the account you want to view.
Shopify Login – Problems
One of the most common Shopify login problems is users inputting of a wrong password. If you mistype your password, you will be required to verify you're not a robot on the next attempt. The same verification will be required when you are logging in from a new device, a browser in private mode, and after clearing your browsing history.
Also ensure you wait for the images to load before clicking verify in the verification process or this will void the attempt.
Forgetting a password is also among the most common Shopify login problems. In case you can't remember your Shopify login password, there's an option to restore it.
Forgot Your Shopify Login Details?
On the Shopify login page, you will find the Forgot? option on the right side of the Password box. After clicking on the forgotten password prompt, you will be redirected to the retrieve password page.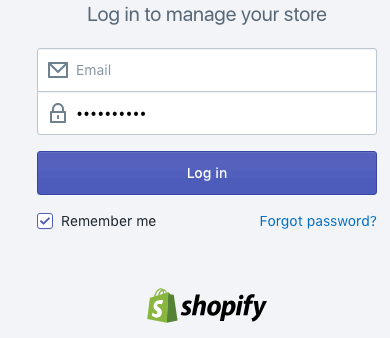 There, you will have to input the email address you are using to log in and click the Email instructions button. You will receive instructions on the next steps in your email inbox. Just follow them and choose a new password to regain access to your Shopify admin.
If you can't remember your email address, you will have to contact Shopify support for assistance to get access to your store.
Shopify Login with Facebook (For Customers)
Shopify offers integration with social media platforms, so that your customers can log in easily and hassle-free. Shopify login with Facebook is beneficial because it lowers the number of steps needed to register, and your users won't have to worry about learning one more password.
To be able to use Shopify login with Facebook, you will have to install a Shopify app on your store that offers this feature. There are several apps offering automatic social logins, simplified customer signups, and help you segment customer data better. But, currently, there is no Shopify login with Facebook option available for retailers. But linking your Shopify store with Facebook and other social media platforms is possible.
If you need help making social logins available for your customers or you want to explore other cool features on your site. Shopify Developers can help you do this (and more!)
If you're yet to start your store with Shopify you can get a free trial here: