Liquify are official Shopify Experts & Partners since 2014. If you follow a link to Shopify from our website and make a subsequent purchase this may result in a commission at no extra cost to you. Our opinions remain our own.
Shopify has recently introduced Shopify Ping, a brand-new Shopify app that makes it convenient to handle your store tasks on the go. Using this app saves valuable time and helps Shopify merchants improve their response time, marketing, and get even more sales.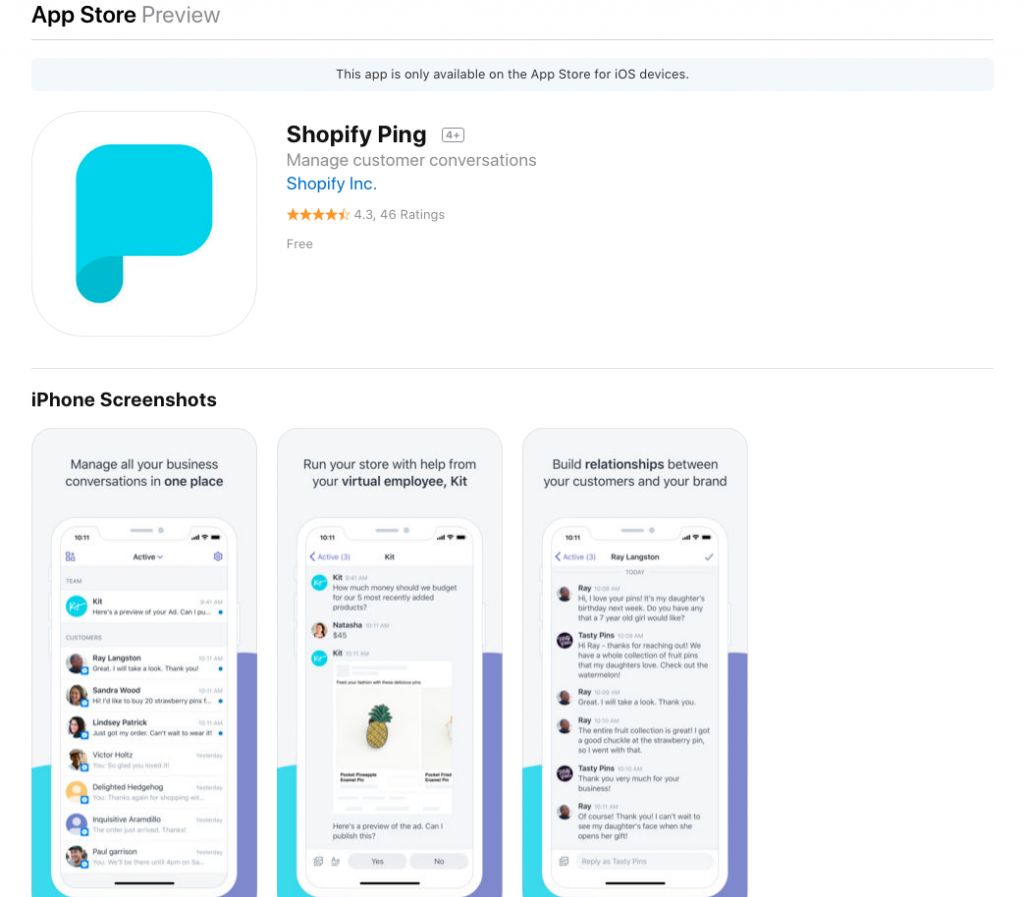 What Can You Do on Shopify Ping?
All the necessary tools from customer relations, to workflow and business assistance, are combined in a single Shopify app. Instead of switching between applications every time you get a new message from the customer, you can use Shopify Ping.
But most notably, Shopify Ping is mobile, which means you have greater flexibility whilst still meeting the needs of your store. Meaning you can market, grow and scale your business from anywhere.
Improving Customer Experience With Shopify Ping
Shopify Ping places a big focus on customer relationships; customers are, after all, your biggest asset. The app allows you to easily navigate through conversations with them by already integrating with other messaging apps like Chatkit or Facebook Messenger.
You can access, send and reply to your customers through the app directly allowing you to improve response time and customer experience. This personal approach to communication helps to build deeper relationships and improve brand loyalty to your store. Plus, with further integrations in the pipeline soon, Shopify Ping will be compatible with plenty more services you use.
It also helps you stay on top of your messages by allowing you to mark as read, unread, or done. Marking them as "Done" will clear them from the home screen, so you have an organised view of your active conversations and won't miss a thing.
Use Shopify Ping and Get an Assistant
Within the Shopify app, you will also get access to automation solutions for your store's marketing. All automation and marketing options in Shopify Ping are available through Kit, your very own virtual assistant.
Kit has a wide variety of skills and can assist you with planning, creating, and managing all your marketing tasks. But, probably the coolest feature is that Kit is always looking for marketing opportunities. For example, this proactive assistant can let you know when it's a good time to prepare and run a retargeting campaign or how to make sure your social posts are reaching the widest audience.
Kit can help you streamline your marketing efforts by:
Automating your Facebook and Instagram ads. Kit can build the ad for you! From curating down to posting at the best times.
You simply prepare your email and retargeting campaigns and Kit will do the rest.
Optimise your product posts with Kit's search engine optimisation (SEO) functionality to help you rank better for the products and services you offer.
Plus, as the integrations for your Shopify store also work for Shopify Ping and Kit, you can make full use of them. From accounting and SEO, all the way to email templates, image editors and sourcing apps.
What Platforms Is Shopify Ping Available On?
Currently, the Shopify Ping app is only available on iOS, from the app store for free. Discover a powerful new way to run your Shopify store with a dedicated Shopify app – Shopify Ping.