Liquify are official Shopify Experts & Partners since 2014. If you follow a link to Shopify from our website and make a subsequent purchase this may result in a commission at no extra cost to you. Our opinions remain our own.
As of October 2018, Shopify has introduced the new Transporter App for Shopify Plus Plan users. This toolkit has the Transporter Command-Line Tool and the Transporter App, which lets you migrate all your data to the Shopify platform.

No matter how extensive or complex your data files might be, Transporter makes importing them from other platforms like Magento – very simple.
Whether you've hired Shopify Plus Developers or you're going it alone, we're taking a look at the new Transporter App and what it can do for you.
How Does the Transporter App Work?
The Transporter app uses the CSV (comma-separated values) format to help you prepare data for migration.
The CSV format is the default format for import and export operations in Shopify. It enables moving vast numbers or products and their details at a much quicker pace than when using the regular migration API.
You can migrate all important data types from your current eCommerce platform to Shopify without having to go through a manual setup again.
When compared to the regular CSV import option, the Transporter toolkit has several important benefits:
It supports importation of not only products but orders, customers, and metafields too.
This is an end-to-end migration solution, complete with extraction, conversion, and import of all data types.
It's ten times faster than the regular import procedure.
Supports CSV files up to 250MB in size.
Can handle bulk operations.
Errors are displayed in the form of understandable messages so users can take action and resolve issues quickly.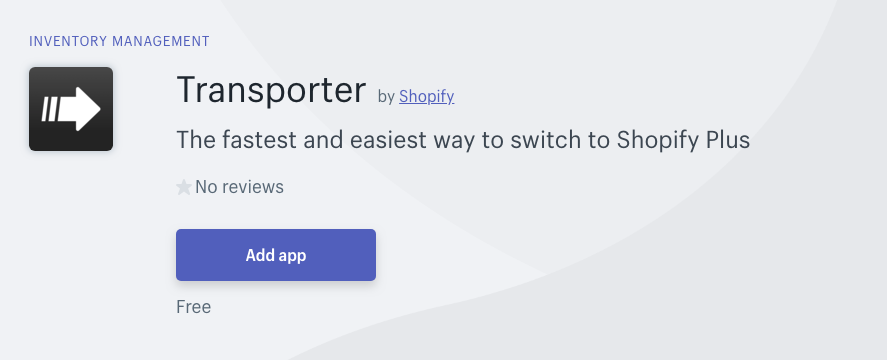 What's best, this toolkit isn't proprietary, it's open source (Ruby Gem). All Shopify Partners, including dedicated Shopify Plus Developers, can contribute to further development by adding new features and developing support to import from more platforms.
How Do You Migrate Your Data to Shopify?
It takes just a few steps to complete the migration process from another platform to Shopify Plus.
First, you need to use the Transporter Command-Line Tool to convert each record type into a CSV file. Do this for all records you want to migrate from your current platform to Shopify.
After that, you will need the Transporter App to import those CSV files to the Shopify store.
Transporter App Migration Errors
Encountering issues with the transfer process is one of the most frequent reasons enterprises hire professional Shopify Plus Developers to migrate over to Shopify. The most common errors that might pop up during migration include:
Failed Status of an Import – To address these errors, click on Export Errors to generate a file where you can examine all the errors.
Errors with Objects within an Import – In this case, the import will be successful (Status: Completed) but will display how many errors there were in the Results tab. To view those errors, click on the Export Errors list and see why some records couldn't be imported.
Official Shopify Plus Experts are familiar with troubleshooting the errors you might encounter when migrating to shopify. It's not worth the risk of a poorly migrated store as it might impact your sales!