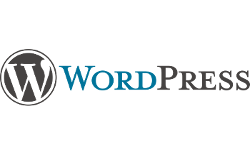 What is WordPress?
Most wordpress developers will tell you that WordPress is the best solution for your business. But what is it? WordPress is an awesome open-source CMS platform which enables website owners to update their website without the need for a designer or developer. The WordPress dashboard is very easy to work with and there is a low learning curve before one can become competent in new tasks like creating new pages and posts or content formatting. It is estimated that over one fifth of the world's websites are now powered by WordPress making it the most popular content management system in the world.
We love WordPress because of the flexibility it offers our designers and developers as well as the ease of use for clients. An experienced WordPress developer can achieve design or functionality using it and any website can easily be adjusted as required.
Who uses WordPress
WordPress started off as a particular favourite amongst bloggers but has swiftly outgrown its status as a blogging platform. It has evolved into the most powerful content management system in the world and many Fortune 500 business and famous news outlets (such as the BBC) use it to power their websites. We also use it to power websites like this one!
This versatile platform incorporates an amazing degree of flexibility to cater for a wide ambit of commercial and non-commercial needs. It comes without the limitations imposed by commercial platform sellers and an experienced WordPress web developer can shape the platform to match your requirements without worries over license issues. So whatever your business needs a durable WordPress solution can be developed around them.
Why get an website developed on WordPress?
For many businesses WordPress is the best investment. Successful business websites are built on platforms which can scale with the growth of the business and adapt to the ever changing needs of the users. WordPress has no limits. The WordPress CMS enables the business owner to quickly update content and it allows the developer to quickly extend functionality and switch designs as need arises. Thousands of open-source developers around the world are working on perfecting WordPress's features and developing new ones so the platform is continually being improved.
The importance of good SEO to online success is widely recognised. The standard WordPress platform comes with strong SEO capabilities and these can be further enhanced by special SEO plugins and correct design and configuration. Because WordPress uses PHP, websites on this platform can be updated easier and faster than Java-based platforms. Users are notified as soon as updates become available. At the click of a virtual button the update is seamlessly implemented. The open-source aspect of WordPress also helps keep development costs down as some code can be reused across multiple websites.
Our WordPress Development Services
We offer clients a complete WordPress development service that takes your website from the planning stage, through development, smooth launch and regular maintenance. Your business plan and the nature of your market become the prime considerations shaping our website design strategy. Every website we design is fully responsive and well documented.
We make full use of the numerous website customisation options that the WordPress platform offers. Consulting closely with the client and making use of findings from our own market research we expertly develop the best design and functionality. The development process involves regular testing to make sure that users have a flawless experience across all modern devices and browsers. With the website launch we stand ready to take on full responsibility for maintaining your site and updating it as your business grows.
Hire Expert WordPress developers Today
The main reason why you would want to hire the best WordPress developers is to maximise your ROI. You don't need to be an be an expert WordPress developer to get a basic website up and running since the platform is so user friendly and there are many template designs available for a small fee. But to get an amazing website which is better than the competition, easy to maintain, fully responsive and well optimised for search engines requires expert assistance from an experienced WordPress designer and developer. Knowing the kind of customisations to boost the website's effectiveness, and getting the most of the SEO possibilities are unattainable objectives if the development is not professionally handled.
Our top London WordPress developer team has a proven success record creating many types of websites. They take the trouble to learn about your business and its customer base. Drawing on their hands-on WordPress development experience they create a website design best-suited to boost your brand image and the traffic conversion rate. The result is a website that will raise your online trading profits and create a more positive business image.