Shopify's new artificial intelligence makes it easier for merchants to generate content using Shopify Magic.
Make writing product descriptions easier than ever with new Shopify's artificial intelligence tools designed for commerce.
Preparing a store for launch can often be a timely and costly activity for merchants. An important factor of this is well-crafted and optimised product page content. Many stores on Shopify have missed out on sale opportunities just from the lack of a description!
Since product descriptions play a critical role in both decision-making for customers as well as for SEO purposes, Shopify has now made it a simple process for merchants. Utilise Shopify's artificial intelligence tool today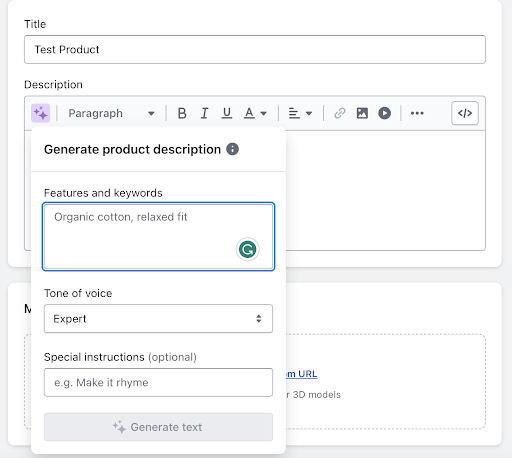 Shopify Magic Text Generation
To generate content easily for Shopify products, merchants need to find the automatic text generator on multiple fields of the Shopify admin. Powered by Shopify Magic using AI technology, it uses information that a merchant provides to generate suggestions for a mixture of content, from descriptions to email subject lines, or even headings in a merchant's online store.
The Technicals
To generate automatic text the AI relies on Large Language Models (LLMs), which are computer programs which process and understand the human language. Large Langauge Models analyse vast amounts of text formed data, which include books, articles, web pages, and statistical algorithms to learn patterns and relationships between words and phrases. From this LLMs can perform a variety of tasks, such as answering questions, translating languages, summarizing text, and generating original content.
Over the next coming year, Shopify will be enhancing even more Shopify tools with Shopify Magic.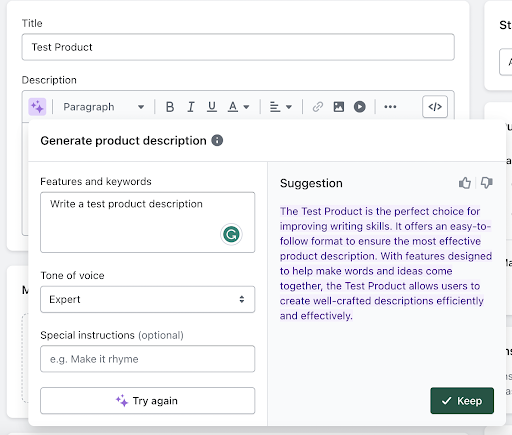 Is It Worth Using Shopify Magic?
While automatic text generation can be a powerful tool to speed up the content generation process, it is still worth noting the following.
When tested by us here at Liquify, not all text generated is of equal quality when compared to using a specialist content writer. Occasionally LLMs generate content that is irrelevant, or potentially offensive. We therefore always recommend to carefully review the content to ensure it's accurate and meets standards. It is always the merchants responsibility to review all generated text before publishing to a product page.
Furthermore, merchants will still be required to carry out keyword research and provide the AI with a framework for content.
Since LLMs are only as unbiased as the data they learn from, we recommend reporting any harmful or biased generated content using the feedback controls within this feature on the Shopify's admin. The LLMs train using this feedback and data.
Contact Us Today
For merchants with large product catalogues, it is now easier than ever to now generate enticing product descriptions in a consistent tone across online stores.
Get in touch today If you would like more information on using Shopifys AI to the best of its ability. Alternatively we can help optimise your Shopify store with a free audit to Shopify Plus merchants.